Finnish Santa Claus football team wins Christmas Eve match in China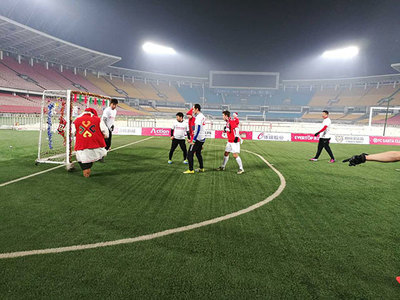 CHENGDU, Dec. 26 (NBD) -- FC Santa Claus, a football team from the northern Finnish city of Rovaniemi, played a friendly match with China Doubi all-star football team at Beijing Workers' Stadium on Christmas Eve.
The aim of inviting the Finnish football team to China is to bring surprise and happiness to Chinese football fans on Christmas Eve.
Players of China Doubi all-star football team including China's former national player Zhang Yonghai, China Football Industry Development Corp.'s president Dong Zheng, partook of the five-a-side football match with their counterpart.
In the end, Santa Claus team won the game by leading China all-star team one goal.
Christmas atmosphere was prevailing during the match as players wearing Christmas hats, Santa Claus kicking the winning ball and audiences receiving presents.
The red-and-white team was introduced by the founder of Bewin sports, Gao Feng, who became a shareholder and vice-president of FC Santa Claus last year.
Rovaniemi, the capital of Finnish Lapland, is situated on the Arctic Circle at the heart of the Barents region, some 835 km from the capital Helsinki. The region claims to be Santa's home, with a complete snow cover regularly from October to April.