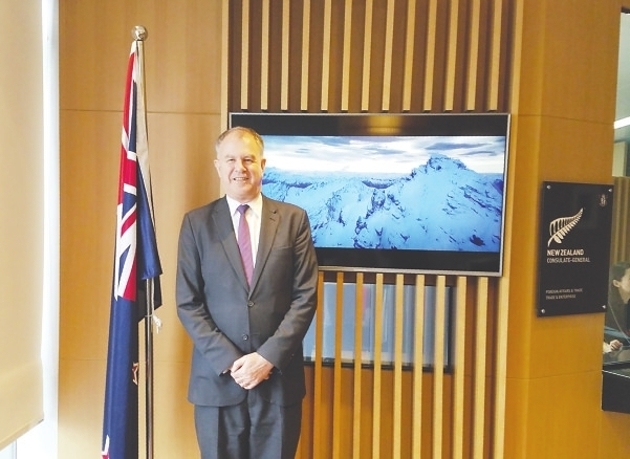 John McKinnon, New Zealand's Ambassador to China (Photo/NBD)
Dec. 1 (NBD) -- China's Sichuan Provincial Department of Commerce inked a Memorandum of Understanding (MoU) of New Zealand-Sichuan Trade and Investment Round Table Meeting with New Zealand Consulate-General in Chengdu and New Zealand Trade and Enterprise (NZTE) on 20th November.
A relative person of New Zealand Consulate General Chengdu introduced that, this is the first time that New Zealand signed such agreement with China's provincial department.
The new agreement aims to establish a new dialogue mechanism at the regional level, which presents a new way of cooperation between two countries.
John McKinnon, New Zealand's Ambassador to China who witnessed the signing of the MoU, said that southwest China's Sichuan province embraces many opportunities to enhance the economic and trade cooperation between China and New Zealand. The direct flights linking Chengdu, Sichuan and Auckland, New Zealand opened this year also create more possibilities for cooperation, Mckinnon added.
Under the new framework, the local governments and entrepreneurs will be deeply involved, providing a good boost for deepening the cooperation.
He further noted that the two sides will conduct discussions about how to enhance the collaboration under the new conditions such as the Belt and Road Initiative.
The new MoU indicates that China and New Zealand are co-operating more closely.
In March this year, New Zealand became one of the first developed countries to conclude the Memorandum of Understanding (MOU) on Cooperation under the Belt and Road Initiative with China. The country is also the first to launch negotiations with China on upgrading the pair's Free Trade Agreement (FTA).
It's been nearly a decade since the first FTA between China and New Zealand entered into force in 2008, introduced Mckinnon. He also said that the third-round negotiation on FTA upgrading will begin soon, during which new economic and trade fields like e-commerce will be discussed.
China's Sichuan province and New Zealand are expected to further promote the cooperation and build a regular information exchange mechanism, Alistair Crozier, New Zealand Consul-General Chengdu, said at the first New Zealand-Sichuan Trade and Investment Round Table Meeting held on 21st November.
New Zealand is also exploring the application of such cooperation mechanism in other provinces of China, but the cooperation with Sichuan province is the priority at the moment, John McKinnon told NBD.
Email: zhanglingxiao@nbd.comcn