Photo/VCG
Dec. 24 (NBD) – The 2nd International Young Scholars Forum was hosted on Tuesday by Sichuan University in Chengdu, the home of the giant pandas.
A total of 1,025 outstanding young scholars from 289 top universities and institutions in 31 countries and regions including the U.S., France, Britain and Germany gathered here upon invitation.
The forum officially unveiled its logo which compares talents to pandas, showing that Sichuan University cherishes talents just like they are the national treasure.
As universities constitute the sole of a city, Sichuan University's thirst for talents reflects that Chengdu, the southwest China's provincial capital, has the ambition to pool the world's excellence and put them to the best use.
Increasing attraction for talents
Over the past several years, the growth of Chengdu and Sichuan University has been catching up and even surpassing some of the coastal cities and their colleges and universities, Dr. Gao Bing from the Scripps Research Institute in the U.S. said at the forum.
Dr. Gao also expressed his faith in Sichuan University, saying that the forum firmed his determination to join Sichuan University.
Aside from the perception of an alluring Chengdu by people like Dr. Gao, the city presents its attractiveness more directly and convincingly with data.
According to the Report on Chinese Returnees Employment in 2017 released by the Center for China & Globalization and the job-hunting website Zhaopin.com, Chengdu ranks 3th, following Beijing and Shanghai, on the list of Chinese overseas returnee entrepreneurs' first choice of Chinese cities.
This is a hard-won achievement for Chengdu.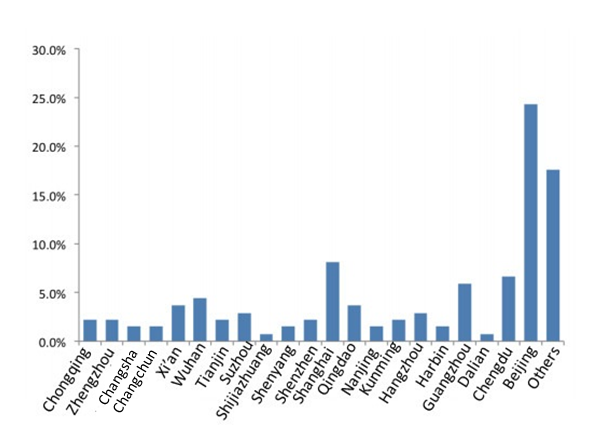 According to another employment report released by the recruitment platform LiePin.com, Chengdu ranked third among all major Chinese cities with a net talent inflow rate of 5.53 percent in the first half of 2017, running ahead of Beijing, Shanghai and Guangzhou.
In addition, in a report concerning job demand and talent supply in summer of 2017 released by Zhaopin.com, Chengdu took the fourth place among the best cities for job seekers, slightly behind the third-placed Shanghai.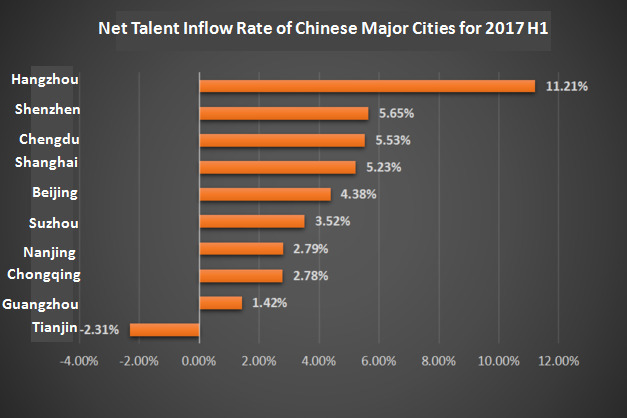 Undoubtedly, those are only a small portion of what Chengdu has achieved, but demonstrate the growing popularity of this open city in different perspectives.
Peng Chongshi, deputy head of the organization department of the Chengdu Committee of the Communist Party of China, noted at the forum that attracting talents has been high on the government's agenda for two years.
This year, it issued a policy to prioritize the development of talents, which helped attract over 100,000 job seekers with undergraduate degrees or above in 4 months since the implementation.
Peng also sent out an invitation at the forum, appealing to young scholars worldwide to work in Chengdu.
Reasons behind high popularity of Chengdu
Wang Jianguo, party secretary of Sichuan University, commented that career development and talent development are indispensable to each other. He also elaborated preferential policies to talents that Sichuan University can offer, covering capital support, platform building, study environment and living subsidies.
The university, for example, will offer the outstanding young talents with great potentials research funding, which could reach up to 2 million yuan (about 30,000 U.S. dollars) given the different characteristics of subjects.
The deep sincerity Chengdu's universities show to talents reveals the city's attitude towards talents, a new view of talent — "open and inclusive to talents coming from different areas and studying different fields".
Young scholars who came to the forum also responded positively to Chengdu's sincere invitation.
Guo Junling, a researcher at Harvard University's top research center who once studied for the master degree at Sichuan University, noted that he has already heard about Chengdu's strong incentive support for talents, and the city will provide those international top talents or teams who have been awarded the Nobel Prize or made other achievements with up to 100 million yuan (15.2 million U.S. dollars) to support their entrepreneurship in Chengdu.
Guo added that he loves Chengdu and hopes to return to his Alma Mater, to make contributions to the development of China in the city with strong respects for talents and knowledge.
Chengdu is becoming a place where international talents gather to enhance their career development and realize personal values.
In July this year, Chengdu has issues 12 new talent attraction policies, including improving the residence registry system for talents, building talent apartments and providing free technical training for all people.
The new policies aim to build a policy system tailored for various talent groups such as high-level talents, much-needed talents, young talents and high-skilled talents, and to solve the difficulties in introducing, cultivating and keeping talents through innovative rules.
For instance, Chengdu allows students with a bachelor's degree or above to apply for residence permits, provides apartments for free for graduates who are looking for a job in the city, and plans to build around 300,000 new apartments for talents.
Those policies have drawn great attention from students.
As cities are increasingly competing for talents, Chengdu will attract more people here to start a business or land a job with the value it's given to talents.
Email: gaohan@nbd.com.cn; tanyuhan@nbd.com.cn; zhanglingxiao@nbd.com.cn