E-commerce sector gets new traceability solution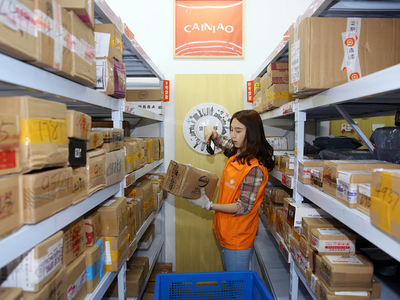 Photo/VCG
Feb. 28 (NBD) -- Global parcel tracking platform Cainiao and Tmall World, both backed by China's ecommerce magnate Alibaba Group, announced Tuesday they have jointly employed blockchain to track, upload, and verify the complete logistics information of imported items sold on Tmall Global platform, being the first to use the cutting-edge technology to trace commodity information.
This signifies the e-commerce industry is getting a new supply chain traceability solution.
The new program is aimed at cracking down on counterfeit logistics information of imported goods.
Prior to this, Chinese e-commerce giant JD.com launched a blockchain-based open platform for anti-counterfeiting traceability, which is open for free to brand owners within the company's ecosystem.
On January 31, 2018, JD Logistics, the logistics arm of JD.com, joined the Blockchain in Transport Alliance, a consortium of the foremost leaders in the trucking industry forging a path towards industry standardization of blockchain use.
As a type of anti-tamper distributed ledger system, blockchain is of great significance to fight against counterfeiting logistics information, an industry insider told NBD. However, as the new technology is built upon the distributed consensus algorithm, it would take a long time to see its industry-wide adoption.
It's impossible to tamper with blockchain-based logistics information which encompasses the entire import process of merchandise, ranging from production and transport to customs clearance, quarantine inspection, and third-party inspection. In such way, every imported item will get a "unique ID".
Data recorded, including the country of origin, shipping port, means of transportation, import port, and customs declaration number, will help buyers verify the authenticity of their goods, said Tang Ren, technical director at Cainiao.
Cainiao and Tmall World are currently leveraging the blockchain technology to manage Cainiao's bonded warehouses in Shanghai, Shenzhen, Guangzhou, Hangzhou, Tianjin, Ningbo, Chongqing, Fuzhou, and Zhengzhou, with more than 30,000 kinds of goods imported from over 50 countries and regions being covered.
A retail industry insider said to NBD that with the technical improvements and concept transformation, blockchain will make its way into the global cross-border trading system in the future, and imported small items could be traced at any time. This will boost the further growth of the cross-border trade.
Email: lansuying@nbd.com.cn