China's property developer Sunac to tap commercial inventory
Mar. 6 (NBD) -- Sunac (Shanghai) Commercial, a subsidiary of China's leading property developer Sunac China Holdings Limited, and the real estate developer and asset manager Nova Property Investment Co., Ltd. announced on Sunday that the two sides will jointly set up a cash pool, a move which signals Sunac's first foray into the commercial inventory.
It is reported that the fund size is expected to reach 20 billion yuan (3.2 billion U.S. dollars), and the two parties will hold a half of the interests, respectively. The companies have negotiated with well-known investment institutions at home and abroad to raise capitals.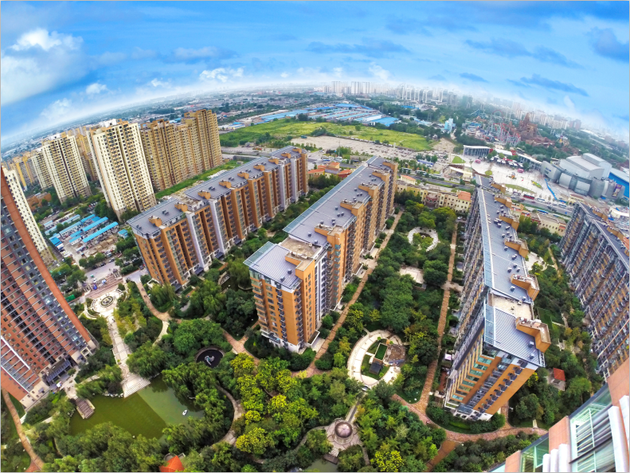 Photo/VCG
Gu Ming, general manager of Sunac Shanghai Commercial told NBD that the new fund has collected about 10 billion yuan (1.6 billion U.S. dollars) and it is forecasted to reach 20 billion yuan in the coming 2 to 3 years.
Gu also noted that the fund will focus on the core commercial inventory assets in first-tier and second tier cities, such as office buildings, hotels as well as markets that have great potentials.
The new fund aims to acquire low-productive assets located in the city center, for example, old hotels and some commercial real estate and markets with low performance, Gu added.
The projects that the fund invests in will be jointly operated by these two companies, and Sunac's real estate asset developing team will provide their support in development and improvement. The two firms will find ways to exit once the property is maturely operated.
Beijing, Shanghai, Guangzhou, Shenzhen and some major second-tier cities have entered the inventory era, Tian Qiang, executive president of Sunac China said to NBD. Due to land resource scarcity, those cities see great demands in upgrading the commercial assets.
The new cooperation will effectively vitalize cities' inventory assets and help improve cities and the city update will become the new growth point of Sunac, Tian added.
In the past decade, although the commercial real estate market grew rapidly, yet a large amount of commercial property was designed unreasonably and operated irrationally, which created great demand for upgrading.
Zhang Bo, chief analyst of the real estate rental and sales service provider Anjuke, commented that China's first-tier real estate market has gradually entered the inventory era. With reducing available land in cities, the update of inventory assets has come under the spotlight.
Cities could achieve inventory asset update by means including reconstruction of old urban areas and industrial transformation.
According to Wang Qian, co-founder, chairman and president of Nova Property Investment, the inventory in the first-tier and second-tier cities will bring opportunities to the real estate fund. There exist a great amount of old property and underestimated inventory in the CBD and sub-center of those cities, which are quality assets with potential appreciation.
Wang took Markthal in Poland as an example, explaining that the project, which was once a dilapidated building, has become the world's first food market complex after the reconstruction.
It is noted that Nova Property Investment now has 38 projects that are under operation or construction, with a total investment of around 8 billion yuan (1.3 billion U.S. dollars). Besides, the company has its complete industrial chain of asset management, from investment, asset management and exit strategies.
Email: zhanglingxiao@nbd.com.cn