Foxconn unit gets nod for Shanghai IPO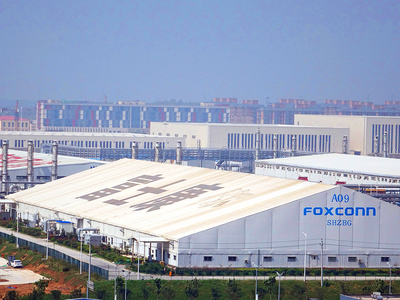 Photo/VCG
Mar. 9 (NBD) - Efforts of pushing unicorn companies to get listed on the A-share market has made substantial headways.
Foxconn Industrial Internet (Foxconn Industrial), an internet and industrial-based subsidiary of Honghai Precision Industry, got the regulator's approval on Thursday to list on the Shanghai Stock Exchange, according to filings released by the China Securities Regulatory Commission (CSRC).
Foxconn sets new record in IPO pace
It only took the Foxconn unit 36 days to complete formalities, setting a new record in the pace of IPO.
The CSRC noted in January that economic strategies would be made to serve our national strategy of building modern economy. China would learn the established standards from foreign countries and make our IPO mechanism more inclusive and supportive.
State agency Xinhua also reported that having innovative companies landed on the Chinese capital market is a goal since the beginning of the 21st century and now it is time for BATJ (Baidu, Alibaba, Tencent and JD) to return to China. While overseas capital markets are taking measures to attract China's great-performing innovative companies, it is urgent for China to remove barriers as much as possible to hold on to them.
Viewing from the market size, business scope, and its role on the market, Foxconn Industrial is absolutely a "unicorn".
As stated in the prospectus, Foxconn Industrial's business covers communication network devices, cloud services, precision instruments, and industrial robots, all linking to the new economy and technology.
From 2015 to 2017, Foxconn Industrial delivered amazing operating profits, with a compound growth rate of 14 percent.
More efforts should be made in the A-share market
Edward Au, co-leader of National Public Offering Group of Deloitte China, noted in an exclusive interview with NBD that apart from building a sound environment for unicorn companies, Chinese bourses should pay attention to the liquidity of the secondary market and help large individual investors improve understanding of investment products and business modes of companies.
When choosing bourses for listing, unicorns are prone to refer to estimated market capital, liquidity, and level of professionalism of fund investors of similar enterprises on the market as well as ecosphere of the bourses in their countries or regions.
Compared to European and American stock markets, the A-share market is relatively younger. For sure, there are some mechanisms need to be improved. But from the global perspective, the A-share market has its uniqueness.
The American market is more mature and innovative, and 95 percent of the capital on the market is invested by funds. In Hong Kong, 80 percent of investors are institutional one. In sharp contrast, nearly 90 percent of A-share investors are individuals. Individual investors favor short-term gains, while unicorns focus more on long-term development. Thus, reforms should be carried out to attract unicorns to the A-share market.
NBD noticed that the efforts of bringing unicorn companies back to the A-share market have triggered heated discussions. Some hold that issuing Chinese Depository Receipt (CDR) would be a good way, which does not require overseas-listed Chinese companies to dismantle their variable interest entity (VIE) structure.
Edward Au explained that most of unicorns and U.S.-listed Chinese companies have established a VIE structure, facing legal and technical obstacles for them to land on the A-share market. But with the CDR structure, these companies would no longer be bothered by the A-share market's stringent IPO requirements like one-share-one-vote and profitability. However, it would be better to wait for clearer policies.
When it comes to the question which companies are able to follow Foxconn Industrial's steps for A-share listing, Edward said though Chinese regulators have been reportedly working on measures to prompt the return of U.S.-listed Chinese companies, no policy has yet been released. In the mean time, some companies are still facing technical issues like VIE structure, therefore it is hard to tell which companies will be able to replicate Foxconn Industrial's success.
Email: tanyuhan@nbd.com.cn