Tencent acquires 27.64% shares of New Classics Media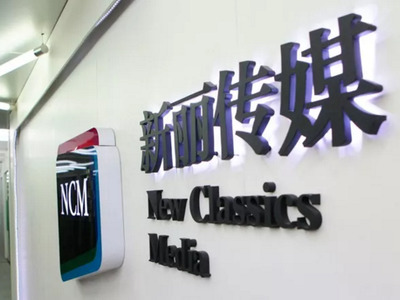 Photo/VCG
Mar. 12 (NBD) - Beijing Enlight Media Co., Ltd. (Enlight Media) Sunday announced the sale of all of its 27.64 percent shares of New Classics Media Corporation (New Classics Media) to Tencent affiliate Linzhi Tencent Technology Co., Ltd.
New Classic Media, founded in 2007, mainly engages in film production as well as the investment, making, and operation of derivatives. Its major productions include Beijing Love Story, Pancake Man and Goodbye Mr. Loser, etc. A great number of famous directors and actors are among its shareholders, such as Chen Kaige, Hu Jun, Zhang Jiayi, and Hai Qing.
Enlight Media's investment yields high returns
According to the company filing of Enlight Media, the company signed an equity transfer agreement Saturday to sell all its holdings of New Classics Media at 3.3 billion yuan (523.7 million U.S. dollars).
Enlight Media acquired the 27.64 percent shares of New Classics Media from the latter's former CEO Wang Ziwen in October 2013 with 829 million yuan (130.9 million U.S. dollars).
This means the company's income from the investment in New Classics Media will be 2.266 billion yuan (357.8 million U.S. dollars) before tax.
It would be a good bargain for Enlight Media. According to its company filing, the deal delivers considerable investment returns, which helps increase corporate cash flow and has a positive impact on its quarterly results.
Based on the deal, it could be calculated that New Classic Media is valued at 12 billion yuan (1.9 billion U.S. dollars) at present, which is almost 4 times the size 4 years ago when Enlight Media invested.
New Classics Media to abandon IPO plan
The deal, however, batters IPO efforts of New Classics Media.
An unnamed investment bank source told NBD that in principle, equity structure should not be changed once a company submitted its IPO materials to the China Securities and Regulatory Commission. Otherwise, the company has to withdraw its materials and queue up again.
An industry insider close to New Classics Media told NBD that the company has decided to abandon its IPO plan for the time being, and then Tencent is likely to play its role.
NBD confirmed the saying by texting with Chao Huayi, Chairman of New Classics Media. After the deal is closed, Tencent will be the largest shareholder of the company, he added.
Last year, New Classics Media delivered operating revenue of 1.67 billion yuan (263.7 million U.S. dollars) and net profit of 349 million yuan (55.1 million U.S. dollars).
The company will keep a close tie with Enlight Media in the future. The two media giants Saturday signed a five-year cooperation contract, saying they will make full use of their respect resources to co-develop and promote films and TV series.
Email: tanyuhan@nbd.com.cn