Shenzhen's parking industry to top $7.9 bln by 2020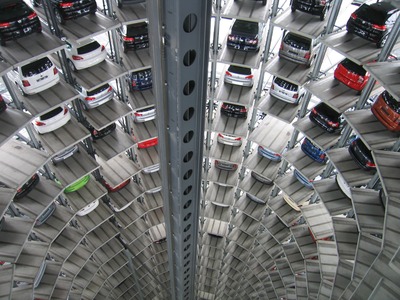 Photo/Shetuwang
Mar. 12 (NBD) -- Southern China's major financial center Shenzhen's parking industry is expected to surpass 50 billion yuan (7.9 billion U.S. dollars) by 2020, according to a report on the city's parking industry in 2017 released by the local development and reform commission.
"Internet plus parking" will be the future development direction of the niche sector, the report said.
Smart parking industry promising
Data shows Shenzhen's parking industry reached 24.1 billion yuan (3.8 billion U.S. dollars) in 2016.
The report noted as the demand for parking surged with the soaring vehicle ownership in China, the parking industry is expected to embrace new development opportunities.
It is predicted that the industry size will top 50 billion yuan (7.9 billion U.S. dollars) in the southern China city by 2020. Of that, the parking lot construction market will attain to 17 billion yuan (2.7 billion U.S. dollars), while the market for parking lot facility manufacturing and installation will surpass 13 billion yuan (2.1 billion U.S. dollars) and that for parking lot operation and management will exceed 23 billion yuan (3.6 billion U.S. dollars).
With increasingly growing demand for parking, the "Internet plus parking" sector is seeing enormous room for growth.
Shenzhen's guideline for the construction of parking facilities calls for the informatization and intellectualization of the parking industry, building of city-level cloud platform for smart parking, and connected parking information, in an attempt to make the most out of available parking resources.
Smart parking apps have mushroomed in recent years.
The bright prospect of the parking market also attracted the influx of a large amount of capital.
For example, in February this year, Ant Financial's wholly-owned subsidiary Shanghai Yunxin Venture Capital Co., Ltd. invested 200 million yuan (31.6 million U.S. dollars) in a smart parking subsidiary of Shenzhen Jieshun Science And Technology Industry Co., Ltd. ("Jieshun").
Vicious competition almost over
Despite the investment frenzy, the "Internet plus parking" industry is witnessing fierce competition.
Many platforms are still burning money for expansion and haven't yet found a mature profit mode.
This indicates hardship still confronts industry players.
Jieshun's general manager Zhao Yong told NBD that the smart parking industry began to rise in the second half of 2014 and hundreds of firms have built a presence in the niche sector as of 2016. However, 80 to 90 percent of these enterprises vanished from the market last year, and the remaining have come to realize the unsustainability of the free mode, which refers to free facility installation, upgrading and maintenance for parking lots.
The free mode costs a lot. In addition to high expenses in getting new clients, system maintenance requires a large amount of money, Zhao explained. Such mode had almost been abandoned over time, which to some extent means the end of vicious competition, Zhao noted.
Unfortunately, the parking information at present are scattered. Due to the lack of unified standard for interface protocol of parking equipment and varying degrees of informatization of parking management systems, smart parking enterprises are incapable to share parking data.
With this regard, Zhao said the future parking industry chain will be an open and connected system. In this case, channel construction and big data operation will be the future development trend, he said.
Email: lansuying@nbd.com.cn