Clou Electronics to sell PV business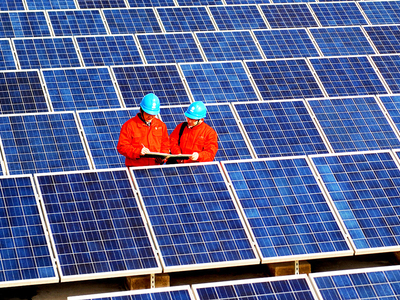 Photo/VCG
Mar. 14 (NBD) - Shenzhen Clou Electronics Co., LTD (Clou Electronics) convened an online meeting Monday concerning its 2017 yearly revenue. According to its board secretary Huang Youping, the company's photovoltaic business will be sold gradually.
Clou Electronics mainly engages in smart grid business and the research, development, manufacture and distribution of power automation products and electrical instruments.
NBD noticed in its annual report of 2017, the company sold a 70 MWp (MegaWatt-peak) photovoltaic (PV) power plant last year and more plants will be sold in the future, freeing up money to develop core businesses such as energy storage and batteries.
Spin-off, a strategic decision
With policies for the PV power industry getting clear, Clou Electronics aims to increase its PV power capacity to 5GW by 2019, according to Rao Luhua, Chairman of Clou Electronics.
The company entered the grid-connected new energy power generation and operation sector in 2013, and its subsidiary Shenzhen Clou Energy Services Co., Ltd. (Clou Energy Services) is principally responsible for the company's investment in PV projects.
Data shows that Clou Electronics reported sales revenue of 4.376 billion yuan (692.4 million U.S. dollars) in 2017, a year-on-year increase of 38.40 percent. Of that, Clou Energy Services posted revenue of 382 million yuan (60.4 million U.S. dollars) and net profit of 105 million yuan (16.6 million U.S. dollars) in 2017.
A source close to Clou Electronics said the company has been running PV power stations for a couple of years and PV power station is a business that can generate abundant cash flow. Selling the PV business is a result of strategic change.
Some small shareholders have complained the debt to asset ratio (67.88 percent in 2017) of Clou Electronics is too high. As the PV industry is a heavy-asset industry, the company wants to lower its debts and turn itself into a light-asset provider, the source added.
Energy storage and battery to be next focus
Clou Electronics will shift its focus to energy storage and battery-making. Investors may only know from previous financial reports that the company engages in the new energy business, but don't know the company is deeply involved in the sector, said a company source. Clou Electronics' new energy business covers energy storage and batteries for new energy cars in addition to PV power generation. This year the energy storage business will be singled out in the financial reports, which reflects how important the business is, the source added.
Statistics show that the energy storage business contributed 470 million yuan (74.4 million U.S. dollars) to the company's revenue in 2017, accounting for 11 percent of the total.
Last October, China issued the guidance on the development of the energy storage industry and technologies, proposing a series of goals. Among them include commercializing energy storage technologies by 2020 and putting them into wide adoption by 2025.
NBD noticed that energy storage technologies are mainly applied in home energy storage and grid energy storage or used to supplement renewable energy.
However, it should be noted that though the energy storage industry has seen rapid development, it hasn't found a mature business model yet. Therefore, there are still no state policies made to subsidize the industry.
Email: tanyuhan@nbd.com.cn