July 20 (NBD) -- Hyperloop Transportation Technologies (HTT), a U.S. based company working on the concept of ultra-high-speed hyperloop, signed an agreement Thursday with the state-owned Tongren Transportation, Tourism & Investment Group, to build a superfast track in Tongren, southwest China's Guizhou province.
This is the first hyperloop track deal between HTT and China, and is also HTT's twelfth deal and third commercial deal globally after its agreements with Abu Dhabi and Ukraine early this year.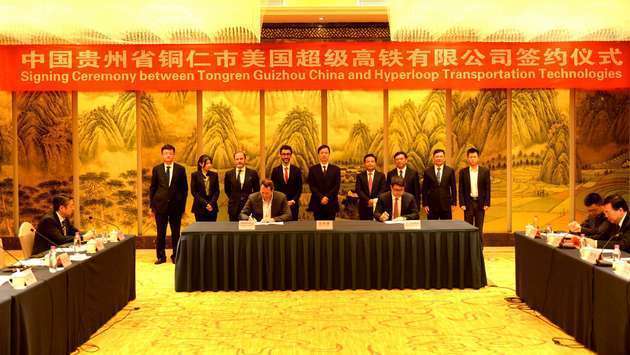 Signing ceremony (Photo provided by HTT)
The project consists of two phases. At the first phase, the two sides will jointly build a route covering an initial distance of no more than 10 km. HTT is to provide technology, engineering expertise as well as essential equipment, while its Tongren partner will be responsible for certification, regulatory framework, and construction of the system.
At the second phase, the route will be extended to a suitable length for commercial operation. Moreover, a supporting industrial park will be built if the cooperation goes well.
HTT's CEO Dirk Ahlborn says Tongren is a "unique topography" which was chosen to help refine various construction methods and develop a system that works in multiple terrains.
The public relations (PR) staff of HTT said to NBD that the policy support of Guizhou government presents a good opportunity for HTT and the characteristic terrain conditions will help optimize the project construction.
Hyperloop, brought up by Tesla CEO Elon Musk, refers to a system in which a pod can travel free of air resistance or friction in an evacuated tunnel to convey people or goods at unprecedented speed safely. But a PR clarified that Elon Musk didn't invest in or have any relation with the company.
The PR further introduced the progress that the company has made in hyperloop, saying that HTT has an experiment base in Toulouse, France, where a 320-meter testing tunnel is under construction and another one of 1 kilometer will be built in 2019.
Zhao Jian, professor of Beijing Jiaotong University, held a cautious attitude towards hyperloop, taking into consideration the security issue and the commercial application prospects of the technology.
The academician of Chinese Academy of Engineering and high-speed train expert Wang Mengshu also questioned the feasibility of hyperloop which involves a maglev line using partly evacuated tubes or tunnels. Problems remain to be solved in maglev trains, not to mention the vacuum transport base on the maglev technology, Wang noted.
Email: gaohan@nbd.com.cn