Panda nannies, photographers the happiest jobs in the world? There's sweat and danger, too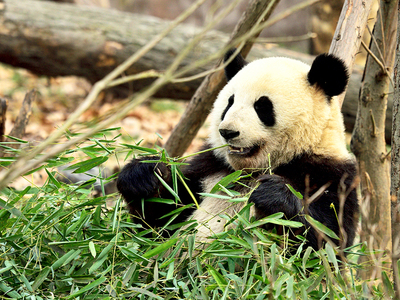 Photo/Shetuwang
Aug. 21 (NBD) -- Giant panda-related jobs have always been viewed as the happiest jobs in the world.
It is absolutely fair to say so if you just watch these adorable, fluffy animals in the panda bases, from the photos, or in the videos.
In fact, jobs like panda nannies and photographers are not as easy or funny as you think. They require a high degree of patience, fearless spirit, and wholehearted dedication in addition to great physical strength.
Tagged some of the happiest workers around the globe, panda nannies, in the eyes of ordinary people, only need to play with adorable pandas all day and share in their joys and sorrows.
Of course not, it is a job that requires a tremendous amount of physical work, and that's why she builds muscle naturally, panda nanny Chen Min said, smiling.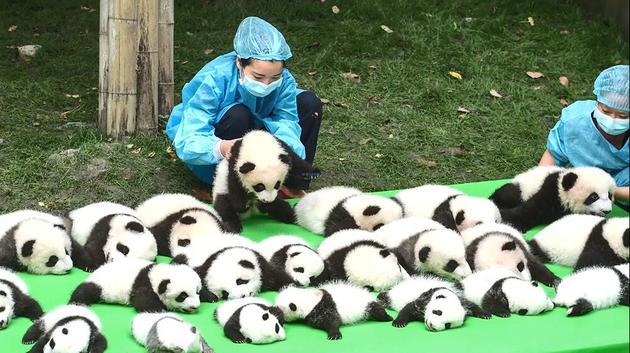 Chen, 43, has been working at Chengdu Research Base of Giant Panda Breeding since 1998.
Usually, giant pandas mate in spring and give birth in autumn, especially from August to September, according to her. In the special period, panda nannies couldn't even stay for a whole night at their homes.
Taking care of panda cubs is tired, even more tired than raising children, she noted. Every day, she gets up at around 6:00 to feed panda cubs. Baby pandas under one year old have demanding requirement for food, so even the slightest error cannot be tolerated, she said. After feeding, she has to take them to the playground for exercise. Taking these cubs weighing over 30 kilograms out one after another could make her sweat a lot.
When all these are done, Chen sets out to clean up feces of giant pandas. Each adult panda can produce a whopping 20 kilograms of manure a day, she said.
Despite the hard work, she is full of happiness. It is happy to see them grow up, get married and deliver their own babies, she said.
In addition to panda nannies, there is another group of people that records the growth of giant pandas. They don't feed or clean pandas, but always keep an eye on the cute animals. They are panda photographers.
In the 57th episode of micro-documentary film National Album, Chen Xiaobo, famous photography theorist and curator of the ongoing "Panda China-Sichuan Theme Exhibition", narrated the stories between Xinhua's three generations of panda photographers and China's "national treasure".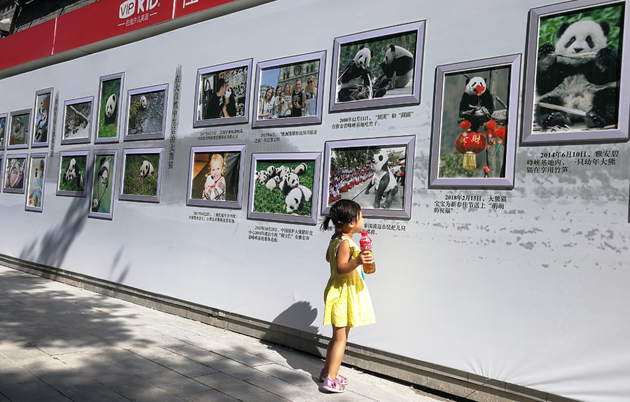 Photo/Li Biao
The first-generation panda photographer at Xinhua News Agency, Jin Xuqi, is over 80, Chen said.
Jin captured her first photo of the wild giant panda in 1980. The panda drank too much water and was too full to run away, just sitting there and letting Jin take photos.
Jin spent around six years in the high mountains and dense forests of western Sichuan to record and report giant pandas' habitat environment, living habits, reproduction, and protection. The time she spent in shooting panda photos was even more than the time she's with her children.
In 2017, Jin published an album of giant panda photos at her own expense in order to arouse people's concern about the cute animal.
Chen Xie, now 50, is the second-generation panda photographer of Xinhua.
A key recorder and witness of giant panda's nursing and return to the wild, Chen decided to go to Wolong National Nature Reserve only one week after the 2008 Sichuan earthquake, one of the largest earthquakes in human history in terms of socio-economic losses, despite the risks of aftershocks and rock falls.
To get to the nature reserve, he chose to climb over Mount Jiajin, Mount Siguniang and Mount Balang, all with an altitude of more than 4,000 meters. The journey was full of danger. Because of landslides, the road was covered, and sometimes he had to get out of the car to remove the stones on the road, so as to keep going forward. At night, heavy fog reduced the visibility to only a few meters, and he could even heard rocks falling down from the mountain. On his way back, he and his driver were extremely terrified when they saw an almost vertical landslide by the road.
After 14 hours of tough journey, he arrived at Wolong and captured photos of giant pandas that people cared a lot after the devastating earthquake.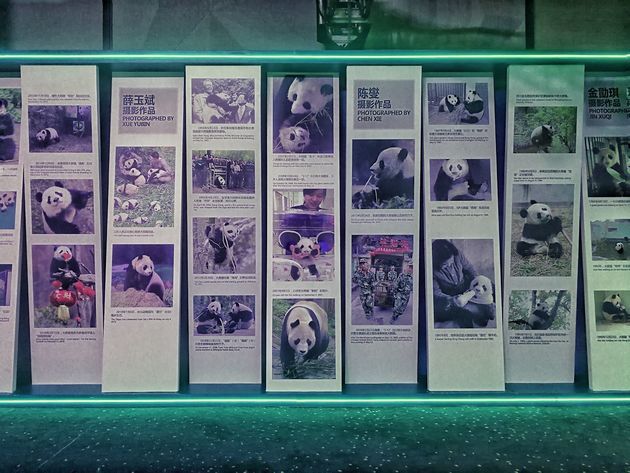 Photo/Li Biao
Another breathtaking experience of Chen is dated back to April 28, 2006, when he tried to take close-up shots of Xiang Xiang, the world's first captive-bred panda released to the wild. When Xiang Xiang noticed, he rushed to Chen and began chasing Chen around the tree. Chen eventually got out of the trouble with the help of a nurser.
Despite these thrilling experiences, Chen still has deep feelings for giant pandas.
Xue Yubin, the third-generation panda photographer at Xinhua, became attached to giant pandas in 2011 when he was interning at the news agency.
On June 22, 2015, a giant panda named Kelin at Chengdu Research Base of Giant Panda Breeding gave birth to female twins, the world's first set of panda twin cubs born in the year.
The ideal photo showing the cubs shouting at the camera helped Xue secure the second prize of the 12th China International Press Photo Contest. To capture the splendid moment, Xue in a crowd of tourists took a energy-consuming posture similar to horse stance in martial arts and waited for around half an hour.
These precious photos are being displayed at the "Panda China-Sichuan Theme Exhibition", a heavyweight part of the First China Giant Panda International Cultural Week, at the China Millennium Monument.
The exhibition is open to the public for free, and will last through August 26.
Email: lansuying@nbd.com.cn