Non-U.S. seafood exporters shine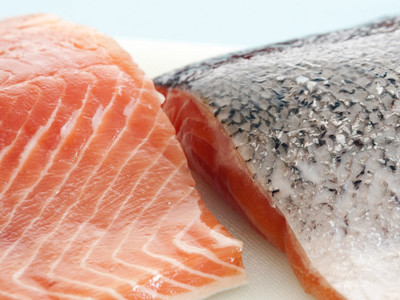 Photo/Shetuwang
Non-U.S. exporters of seafood, meats and grain to China are reaping unexpected benefits from tariff tensions that are bedevilling U.S.-China bilateral trade.
Salmon exports from South American country Chile doubled year-on-year in the first six months of this year.
Thailand is bullish about the export potential of its seafood to China, which has reduced seafood imports from the United States following the trade row.
Since July 6, China started to impose an additional 25 percent tariff on a number of U.S. seafood items, including salmon and lobster, in response to tariffs on Chinese goods imposed by the U.S.
Until recently, salmon was the U.S.'s biggest item on its list of seafood exports to China, with its value reaching 318.5 million U.S. dollars last year, according to a report by Zacks, an investment research firm.
Besides, Maine lobsters, Alaska crabs and California squid have seen their prices rise in the China market, and this has benefitted seafood exporters of other countries.
Now, China's tariff on U.S. lobsters is 32 percent. Chinese buyers can get the same variety of lobster from Canada, which attracts only 7 percent tariff. China also imports lobsters from Australia, New Zealand, Japan, Mozambique, Mexico and Jamaica.
In the first half of this year, China's demand for Chilean salmon doubled compared with the same period last year.
From January to June, China's purchases of Chilean salmon reached nearly 24,000 metric tons from 12,000 metric tons in the same period last year, according to a report in El Mercurio, a Chilean newspaper.
Chile's exports to Russia surged 87 percent to 36,000 metric tons, mainly because Russia closed its market to Norwegian salmon, according to the news report.
Arturo Clement, president of industry group Salmon-Chile, said the sector expects sales to China "to keep growing, driven by an increase in demand."
"In addition to the marketing we do in the United States, the second country we should focus on is China," said Clement.
In total, salmon sales of Chile reached 452,000 tons from January to June, an increase of 25 percent year-on-year.
After copper, salmon is the country's second-largest export, generating 4 billion U.S. dollars a year on average.
Meanwhile, the Thai Ministry of Commerce said the country's seafood exporters, especially those dealing in fresh and frozen shrimp and crab, have benefitted from the shift in the China market's demand from the U.S. to Thailand.
Last year, China imported seafood worth 2.5 billion U.S. dollars in total from across the globe, including 150 million U.S. dollars worth of Thai seafood. According to udnbkk.com, a Chinese newspaper published in Thailand, the Thai Ministry of Commerce said it is bullish about the potential of exports of shrimp, fish, and squid to China.
"It's natural for a country to import items from other sources when the traditional suppliers resort to harmful or unfriendly trade policies," said Li Guanghui, vice-president of the Chinese Academy of International Trade and Economic Cooperation.
Unfair import tariffs will further push U.S. meat and farm produce exporters out of the China market. Seafood, wheat, fruit, wine, chicken and pork will now be imported by China from countries and regions such as Thailand, Vietnam, Argentina, Central Asia and Eastern Europe. In fact, the latter have already taken a large share of the China market, he said.
Email: tanyuhan@nbd.com.cn