Duty-free stores a "cash cow" for airports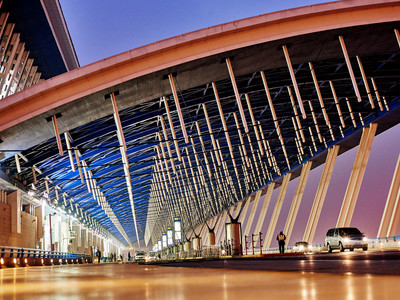 Photo/Shetuwang
Sept. 10 (NBD) -- Shanghai International Airport Co., Ltd. (600009.SH) agreed to sign a seven-year contract with Sunrise Duty Free (Shanghai), under which the latter gets to operate the duty-free stores at Shanghai Pudong International Airport from January 1, 2019 to December 31, 2025.
If the contract is carried through, Shanghai International Airport expects to get a guaranteed commission of 41 billion yuan (6.0 billion U.S. dollars) for the seven years, according to the announcement of the Shanghai-based airport service provider.
Sunrise Duty Free (Shanghai), with China Duty Free Group as its controlling shareholder, is one of leading operators of duty-free stores in China.
At the end of 2017, Sunrise Duty Free (Shanghai)'s total assets were valued at 1.367 billion yuan (199.9 million U.S. dollars), with net assets standing at 603 million yuan (88.2 million U.S. dollars).
Sunrise Duty Free (Shanghai) paid 1.46 billion yuan (213.5 million U.S. dollars), 1.694 billion yuan (247.7 million U.S. dollars) and 2.555 billion yuan (373.6 million U.S. dollars) in annual rent to Shanghai International Airport from 2015 to 2017, contributing 23.3 percent, 24.38 percent and 31.69 percent to Shanghai International Airport's operating revenue in 2015, 2016 and 2017, respectively.
According to estimation of Sinolink Securities, duty-free stores at airports in Shanghai boast a business turnover of 1.815 million yuan (256,393.6 U.S. dollars) per square meter each year, far ahead of those in other listed airports in China.
Shanghai International Airport said in the announcement that increasing commercial rental income results from greater consumption willingness of travelers as well as the company's better management of retail brands and optimization and adjustment of stores.
Behind the handsome rent that duty-free stores pay to the airports lie the large passenger flow volume and their huge buying potential.
Shanghai Pudong International Airport saw an international passenger traffic of approximately 15.36 million in the first six months of this year, representing an increase of 12.63 percent year over year.
A tourism industry analyst told NBD that winning the bid of operating duty-free stores across Shanghai Pudong International Airport would allow Sunrise Duty Free (Shanghai) to achieve a high level of integration and scale effects, giving the company an edge in terms of merchandise procurement and selling prices.
The analyst also held that policies like the offshore duty-free shopping policy in Hainan, in addition to exploration and experiment of downtown duty-free stores (similar to those in South Korea), helped encourage Chinese customers who used to shop abroad to buy at home over the past several years.
Email: gaohan@nbd.com.cn