Chinese EV startup Nio makes waves in stock market after IPO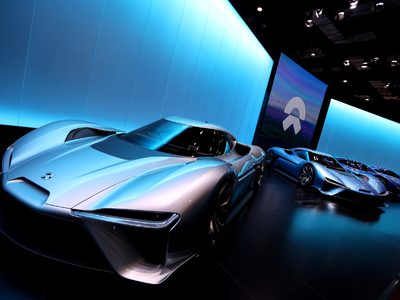 Photo/Zhang Jian
Sept. 18 (NBD) -- Shares of Chinese electric vehicle (EV) maker Nio fell below the issuance price on the day of its IPO debut, soared by 75.76 percent on the second day of trading and then plummeted by 14.66 percent on the third trading day.
Different prospects of investors having long or short position in Nio underlie the extremes the Chinese EV upstart faced in the market after its debut on the New York Stock Exchange last Friday, the 21st Century Business Herald reported citing an anonymous securities analyst.
Nio positions itself as the Chinese version of Tesla which is one of the most sought-after targets for short sellers in the United States.
In the eyes of short sellers, future of Nio is less promising than expected.
Analysts at sell-side research firm Bernstein Research held both Tesla and Nio are burning money and it's hard for Nio to achieve its sales target. They projected Nio will sell 50,000 vehicles by 2020 and 160,000 vehicles by 2025 but questioned the company's ability to turn a profit by then.
The carmaker's profitability has always been the major concern of investors. According to the prospectus filed on August 13 of 2018, Nio incurred losses of 10.92 billion yuan (1.6 billion U.S. dollars) from January 1, 2016 to June 30, 2018, with 11.95 million yuan (1.7 million U.S. dollars) vanishing every day.
Nio's CEO Li Bin expected the deficit for 2018 to exceed 5 billion yuan (729.4 million U.S. dollars).
Industry insiders believed highlights picked by Nio for publicity would fall under close scrutiny of short sellers who will grab opportunities once Nio can't live up to its promises or cost surpasses expectations. The first test for Nio is whether the company can successfully deliver 10,000 vehicles within this year, the industry insiders noted.
However, questions over vehicle delivery and concerns over deficit didn't push away investors who bank on Nio's financing capacity.
Public information shows that the EV startup has raised approximately 16.5 billion yuan (2.4 billion U.S. dollars) so far.
Pan Xiaofeng, managing partner at GSR United Capital, said that a company's performance on the capital market is much associated with investors' visions towards its future. If a company can't make profits in a short term, the least it can do is to have in place a medium-term profitable roadmap. Patience of investors is limited and their confidence can be boosted only when the company can deliver fast development or narrow deficit, Pan added.
Similar to smartphone manufacturer Xiaomi, Nio intends to make money through providing various Internet services, with selling cars as an entry point.
Email: gaohan@nbd.com.cn