Airbus to cooperate with more Chinese suppliers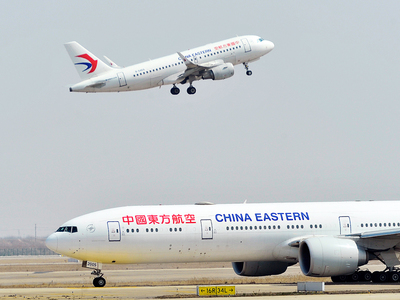 Photo/VCG
European aircraft manufacturer Airbus SE said it hopes to cooperate with more Chinese suppliers, including private enterprises, as it continues to expand cooperation with Chinese industrial players, a senior company executive said.

Next week, an A320 aircraft that is expected to be delivered from the Airbus A320 family final assembly line in Tianjin to China Express Air will be equipped with seats produced by Hubei province-based Jiatai Aircraft Equipment Co Ltd, the first time that an A320 aircraft is using seats produced by a Chinese supplier.

"We hope to cooperate with more Chinese suppliers in producing structural parts, such as lavatories, ceilings and seats. This will help us to save a significant amount of transportation costs and raise efficiency," Klaus Richter, chief procurement officer of Airbus, said on Tuesday in Beijing.

"We are also convincing our European and US suppliers to come to China to set up plants and make investments in the country," he said.

For the company's single-aisle family aircraft, Airbus usually spends about 15 billion U.S. dollars to 20 billion U.S. dollars a year on the procurement of flying parts, which involve more than 250 suppliers, including a number of Chinese suppliers, according to Airbus.

Globally, Airbus cooperates with more than 1,500 suppliers on flying parts. Overall, the manufacturer cooperates with around 10,000 suppliers, including general procurement.

Besides, Aviation Industry Corp of China Ltd recently obtained the qualification to produce galleys for A320 aircraft that will be delivered from Tianjin, and Airbus would like to develop a cabin supply chain with AVIC.

Currently, China serves as the largest market for Airbus, followed by the United States. By 2020, the total output from industrial cooperation between Airbus and Chinese companies is expected to reach $1 billion. The amount was 641 million U.S. dollars last year and 120 million U.S. dollars in 2008, Airbus said.

Airbus would like to form a vertical integration supply chain in China, which means Airbus will purchase raw materials, and assemble parts and aircraft in China, said Francois Mery, chief operating officer of Airbus Commercial Aircraft China.

Meanwhile, Airbus' US archrival Boeing unveiled its first overseas completion and delivery center for its single-aisle aircraft in Zhoushan, Zhejiang province, last year. By the end of this year, Boeing will deliver the first single-aisle B737 MAX plane directly from Zhoushan to a domestic airline.

"One-fifth of single-aisle aircraft globally are delivered to China. It is a huge market that both Airbus and Boeing hope to seize," said Lin Zhijie, an aviation industry analyst and columnist at Carnoc, a leading civil aviation website portal in China.
Email: zhanglingxiao@nbd.com.cn