JAC vehicles gaining ground in Argentina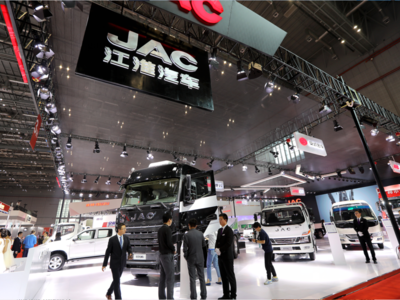 Photo/NBD
Chinese-made automobiles are now more frequently seen driving on the streets of Argentina, as more carmakers travel to the South American market.

This week, Anhui Jianghuai Automobile Co Ltd, better known as JAC Motors, became the latest Chinese manufacturer to present its line of passenger and commercial vehicles for Argentine consumers.

Argentine importer Sideco showcased JAC-branded SUVs and pickups at Arenas Studios, the expansive moviemaking venue in the La Boca district of Buenos Aires, capital of the country.

"We're launching the brand in Argentina and it's a double launch - the brand on the one hand and the full range (of vehicles), the complete lineup of products, on the other," said Diego Massa, general manager of JAC Motors in Argentina.

The movie studios offered a dramatic backdrop for the unveiling of three SUVs, the JAC S2, JAC S3 and JAC S5, as well as two commercial vehicles, the JAC X200 truck and JAC T6 pickup.

"We think the Argentine market has enormous potential, that's why we chose a brand with a complete range of vehicles, from passenger cars ... to light and heavy commercial vehicles," said Massa.

"Our idea is to work the entire range. We believe since Argentinians are gearheads by nature, the automotive industry in Argentina always has enormous potential," he said.

JAC's entry into Argentina brings the total number of Chinese vehicle manufacturers operating in the country to 12, and extends JAC's presence across Latin America.

Serafin Alvarez Tato, Sideco's automotive business director, said the importer was happy to see the Chinese carmaker finally venturing into Argentina, "the only country in Latin America that was left to introduce its products".

"We are very satisfied, very pleased with the introduction of this brand, a market leader in China," Alvarez said, adding that the company's extensive range of products will give it a competitive edge.

"The brand's great advantage is that it has products in all market segments, so we can work on SUVs, or on light commercial vehicles, especially pickups, or on heavy commercial vehicles, on buses and on electric cars," said Alvarez.

In Argentina, "our priority market is the SUV segment and the pickup segment. We have other products, but will initially focus on these two before moving on to light and medium trucks," said Alvarez.

The executive said JAC Motors has ample experience in the colossal Chinese market, which has seen "undeniable" growth, selling 29 million vehicles last year.

"It's a market that is double the size of the market of the European Union and double the size of the US market, which numbers 12 million autos," he said.

"Chinese brands have taken a giant and rapid leap in growth, in technology, in product design," said Alvarez.

"In the case of JAC in particular, it has design centers in Hefei, China, in Turin, Italy, and in Tokyo, Japan," he said.

In 2017, the company placed 25,000 commercial and passenger vehicles in the Latin American market.

This year, it plans to raise that number to 30,000 throughout Latin America, including Mexico, Brazil, Chile, Peru and other countries.
Email: zhanglingxiao@nbd.com.cn