Fifth Chengdu Creativity & Design Week kicks off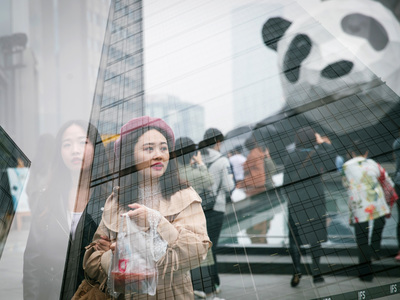 Photo/NBD
Nov. 9 (NBD) – The opening ceremony of the fifth Chengdu Creativity & Design Week was held at Jinsha Site Museum on Thursday, where the Golden Panda Design Award 2018 was announced as well.
The Golden Panda award, as a major event of the four-day Creativity & Design Week, received more than 4,000 design works from over 30 countries and regions. The works were then reviewed and judged by an international and authoritative jury.
A total of 175 works finally made the list, with four of them winning the gold awards of Urban Space Creative Design, Industrial Creative Design, Tourism & Culture Creative Design and Rural & Folk Art Creative Design, repectively.
Two of the gold awards come from Chengdu, the southwestern metropolis which is striving to build itself into a world renowned cultural city.
The Creativity & Design Week and the Golden Panda Design Award are important boosters to increasing cultural influence of the city, said jury chairman Lian Yi, former president of Chinese National Academy of Arts.
The Golden Panda Design Award this year paid special attention to creative designs in rural contexts. One gold award recipient, In-Bamboo, is a perfect example. The project is a countryside community complex capable of hosting public lectures, creativity events and displaying cultural creative products.
"In-Bamboo fits into local rural environment naturally, and it's the best work we've seen today," said the jury members.
Moreover, the Golden Panda Award added a new special award for design based on countryside context this year, which attracted many creative works with distinct western Sichuan characters. The creative power embodied in these works is enhancing Chengdu's vitalization of the countryside.
International wisdom is going to shed light on rural development as well. During the week, experts from University of Florence in Italy will share rural management experiences in Tuscany. Craftsmen from Kagoshima Prefecture of Japan will discuss how handicraft industry contributes to rural transformation.
It is noted that a series of events are set to roll out in four days, including the annual Chengdu Creativity & Design Industry Exhibition, iF International Design Forum Chengdu, and a summit on garden city. The awarded works will also be exhibited during the week.
Email: limenglin@nbd.com.cn