Inclusiveness makes the Fringe second largest ticketed event, just behind Olympics: Chair of The Fringe Society's Board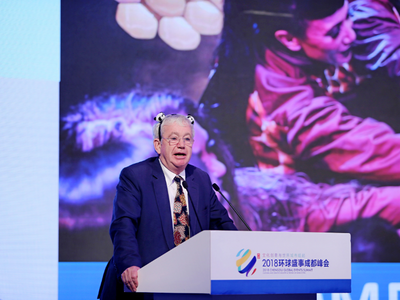 Sir Timothy Michael Martin O'Shea is giving keynote speech at the 2018 Chengdu Global Events Summit. (Photo/Zhang Jian)
Nov. 14 (NBD) -- The Edinburgh Festival Fringe (the Fringe) is now the second largest ticketed event in the world, just behind the Olympics.
Sir Timothy Michael Martin O'Shea, Chair of the Board of Directors of the Edinburgh Festival Fringe Society, made the above remarks in his keynote speech at the 2018 Chengdu Global Events Summit with a theme of Cultural and Creative Industry & The Rise of World Cities in Chengdu Tuesday.
Wearing a hair band with two cute pandas on it, Sir O'Shea said while many other festivals around the globe invite big names to give performances, the Fringe is an event that inspires excellent people worldwide to come to Edinburgh spontaneously due to its inclusive and immersive environment. People could see many famous faces at the grand arts event.
Established in 1947 as an alternative to the Edinburgh International Festival, the Fringe started life with only eight companies performing in five venues. But now, the Fringe generates 173 million pounds (219.8 million U.S. dollars) for the Scottish economy annually.
This year, the arts event saw performers from 55 countries and regions act on stage, and grew into the second largest ticketed event in the world, just behind the Olympic Games.
Regarding what makes the Fringe a sucessful cultural, social and economic story, Sir O'Shea said that inclusiveness is the core spirit of the Edinburgh Festival Fringe. The arts feast is diverse in forms, from comedy to cabaret, theater to opera, music to children's shows, and circus to exhibitions. There is no panel of judges or artistic director deciding who can or cannot perform, and anything can be put on stage as long as it's legal.
The inclusiveness is also shown in the concern for the special groups. For example, wheelchairs will be prepared for participants with mobility impairment while sign language interpreters will be available for those with hearing impairment, he added.
Just like Chengdu, Edinburgh is a city with a long and profound history and also has wonderful public spaces where performers can display their talents to the audience, Sir O'Shea said, pointing to a picture on the big screen that shows a performer presenting a show on a small plaza, with a crowd of audiences standing around.
Email: lansuying@nbd.com.cn