Chengdu suitable for development of fashion industry, says ex-dean of School of Fashion at Parsons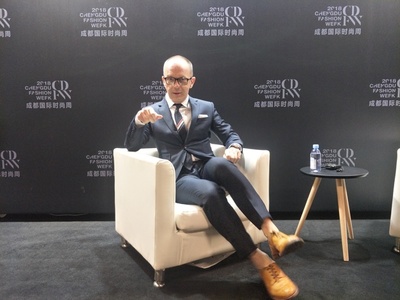 Photo/Wu Linjing
Nov. 15 (NBD) – Chengdu has keen fashion awareness, and is especially suitable for the development of fashion industry, said Simon Collins, former dean of fashion at Parsons School of Design.
Recognized by The Business of Fashion as a figure shaping the fashion industry and as one of the 100 Most Creative People in Business by Fast Company, the dapper-looking gentleman was invited as a heavyweight guest to the Chengdu International Fashion Week 2018 launched on Tuesday.
This is Collins' third visit to the metropolis in southwest China, and he felt inspired during each of his sojourns in the city. He spoke highly of Chengdu's life aesthetics and fashion characteristics in an interview with NBD.
Collins was first struck by Chengdu's culture and architecture when he first visited Chengdu three months ago. Taikoo Li, the downtown shopping complex bordering ancient Buddhist temple, is a perfect combination of traditional culture and modern fashion to Collins.
He thinks this kind of fusion design should extend to other projects in the city, forming a distinct fashion approach. According to Collins, the making of fashion can either be brand new creations or innovations from the combination of different elements.
Collins is also the founder and CEO of WeDesign, an art and design education institute based in New York. The school took notice of Chengdu long ago because of the Chinese students enrolled.
"To me, Chengdu cares about fashion very much, and young designers here cast an keen eye over the trends of the fashion industry," said Collins. He hopes Chengdu could offer greater support to these designers, because they are the future of design.
He revealed that he is planning to start a design school in Chengdu. "I have scouted many cities in China, including Shanghai and Shenzhen, but finally decided to choose Chengdu, because of the unique culture here," he told NBD.
Chengdu has always been a fashion stronghold. According to data, Chengdu ranks third in China in terms of the presence of international first-tier fashion brands. Lifestyle magazine New Weekly dubbed Chengdu as a tier-1 city of fashion in China in a fashion index report released in October.
The opening ceremony of the Chengdu International Fashion Week 2018 attracted 9 top fashion brands and organizations from four world fashion centers: New York, Paris, Milan and Tokyo. Representatives of nearly 100 domestic fashion organizations attended the ceremony as well.
A series of top-tier brands fashion shows, exhibitions and industry forum will be held in the six-day fashion week, marking Chengdu's efforts to build itself an international consumer city.
Email: limenglin@nbd.com.cn