Entries now being accepted for Short Video Competition - Tianfu Through the Lens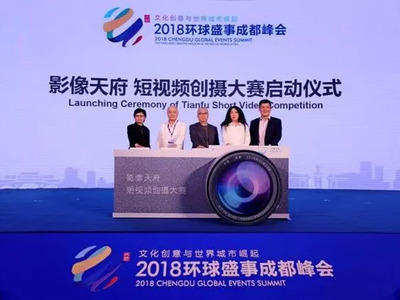 Launch ceremony of the Short Video Competition - Tianfu Through the Lens in Chengdu (Photo/Zhang Jian)
Nov. 20 (NBD) -- Entries for the Short Video Competition - Tianfu Through the Lens are being accepted at present.
The Competition, hosted by National Business Daily and co-organized by Chinese entertainment media group Ciwen Media, is aimed at displaying the charisma and growing appeal of southwestern China's Chengdu, and is open to all people around the world.
All submissions shall come in one- or three-minute version, with the former for release on social media platforms like WeChat or Douyin and the latter for the purpose of public services and for media presentation.
Four themes are optional: a) highlight Chengdu's positioning as a national central city; b) show urban life aesthetics of Chengdu as a beautiful and livable park city; c) reflect Chengdu's internationalization and opening-up pattern based on the city's efforts in building itself into an international hub; d) promote the Tianfu culture with innovation and creation, elegance and stylishness, optimism and inclusiveness, and amicability and commonweal at its core.
A dedicated online channel will be opened to publish information of participating teams and take public voting.
A professional judging panel will be set up. Judges to be invited include Wang Chaoge, China's esteemed theatrical director, chief director and head writer of Impression Series live performances, Marco Muller, former Chairman of Venice International Film Festival, Ma Zhongjun, Chairman of Ciwen Media, Zhou Chunya, Chinese contemporary artist, and a well-known expert in communication sciences from top Chinese university.
Public votes and results of comprehensive reviews will be weighted in a 60/40 ratio.
In April 2019, a shortlist consisting of 10 outstanding one-minute videos and 5 three-minute videos will be announced.
Producers of the shortlisted 1-minute videos will each be granted 30,000 yuan (4,330.3 U.S. dollars) of initial capital, while those of the shortlisted 3-minute videos will each be granted 80,000 yuan (11,547.3 U.S. dollars) of initial capital.
The awards ceremony is scheduled to be held in August 2019. The top 3 of the two categories will be unveiled at the ceremony.
For the one-minute category, the Competition will offer a first prize of 100,000 yuan (14,434.2 U.S. dollars), a second prize of 70,000 yuan (10,103.9 U.S. dollars), and a third prize of 50,000 yuan (7,217.1 U.S. dollars).
For the three-minute category, the first-place winner will get a prize of 300,000 yuan (43,302.5 U.S. dollars), the second-place winner 150,000 yuan (21,651.3 U.S. dollars), and the third-place winner 100,000 yuan (14,434.2 U.S. dollars).
These outstanding videos will likely be exhibited at international arts festivals. And excellent production teams will stand a good chance of entering into a contract with Ciwen Media.
Email: lansuying@nbd.com.cn