Private rocket firm LandSpace receives $43 mln new funding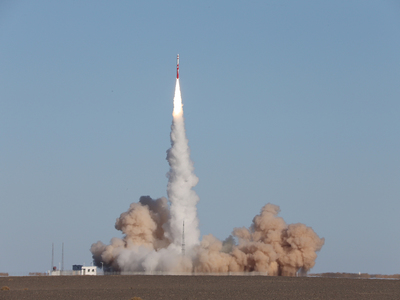 Photo/VCG
Nov. 21 (NBD) – Chinese private rocket start-up LandSpace announced a series B+ funding of 300 million yuan (43.2 million U.S. dollars) on Tuesday, marking investors' increasing enthusiasm in the private aerospace market.
The company says the funding will be used in developing LandSpace's main products, i.e. the liquid oxygen methane engine TQ-12 with 80-ton vacuum thrust, and medium-sized carrier rocket ZQ-2 and supporting infrastructure, in an attempt to attain independent control over the research and development, manufacturing, and testing of new-generation liquid-fueled rockets.
Liquid oxygen methane rockets produce less pollution, require less investment, and can be recycled, therefore the technology is considered a major trend for future private aerospace industry.
Besides LandSpace, companies like Beijing-based i-Space, Elon Musk's SpaceX, and Jeff Bezos's Blue Origin are developing their own liquid oxygen methane rockets as well.
Zhang Changwu, CEO of LandSpace, said the company has sticked to the strategy of focusing on medium carrier rockets and liquid engine, and has made considerable progress.
SpaceX has gained an upper hand in the market with large rockets, and companies like Rocket Lab and Vector are making up with small rockets, therefore medium rockets have an obvious opportunity, added Zhang.
The company plans to launch medium rocket ZQ-2 in 2020 based on its independently developed TQ-12 engine system.
The new round of financing came shortly after LandSpace's failed attempt to send a satellite into orbit via its ZQ-1 rocket last month, indicating investors' confidence in the private aerospace industry.
China's investment in private rocket companies started in 2016, but has increased rapidly ever since. By the end of September, LandSpace had received more than 800 million yuan (115.2 million U.S. dollars) funding. OneSpace, China's first private company to have successfully launched independently developed rocket, have received roughly the same amount of funding so far.
According to a report from investment company Space Angels, by the end of September, China's private investment in aerospace industry has exceeded 2 billion U.S. dollars, approximating the total of last year.
The third quarter is particularly noteworthy, when private investment in this sector exceeded 70 million U.S. dollars, highest among all countries in Q3, and among the investment cases one third are series B, indicating that some start-ups are reaching maturity.
These burgeoning private rocket companies hope to help satellite companies launch small satellites that can be used for purposes like improving internet accessibility on trains and airplanes. More than 20 micro satellite developers have emerged in China in the past several years.
The demand for satellite launching services is increasing in China, said Yang Feng, CEO of micro satellite company Spacety established in 2016.
Satellite launching is the core of commercial aerospace industry. Without satellites there is no point of making commercial rockets, said Yang.
Email: limenglin@nbd.com.cn