Niu's stock price below debut price over a month after IPO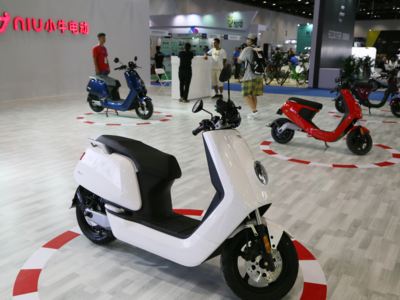 Photo/VCG
Dec. 10 (NBD) – Stock price of China's smart urban mobility solution provider Niu Technologies (NASDAQ: NIU) closed at 7.67 U.S. dollars per share at 16:00 pm EST on December 7, 2018, lower than its initial offer price of 9 U.S. dollars per share.
The Chinese electric scooter brand, famous for its good-looking appearance and advanced technologies, went public in the U.S. on Oct. 19, 2018.
Niu's IPO is partly for the purpose of raising funds, Zhang Peng, Chief Financial Officer of Niu, said in an interview with NBD, but more importantly, the company aims to seek expansion in the global market by improving the brand recognition and influence.
With regard to the stock price which fell below the debut price, Zhang Peng noted, time is still needed for the market to be familiar with the Chinese electric scooter maker.
According to Niu's financial results for the third quarter of 2018 released on November 19, 2018, net revenues for the third quarter of 2018 hit 493.2 million yuan (71.8 million U.S. dollars), up by 86.1 percent year on year. This marks the first time the mobility solution provider has generated positive net income in a single quarter.
The report also indicated the number of electric scooters sold for the third quarter of 2018 reached 120,961, a rise of 76.3 percent over the previous year.
However, in terms of sales volume, Niu is still not on a par with electric scooter giants like Yadea Group Holdings Ltd.
When asked about the challenge posted by Niu's powerful counterparts, Hu Yilin, vice president and director of the research and development division at Niu, took Apple and Nokia as an example and replied the pressure represents stimulus and opportunity as well.
Currently China's electric scooter industry is at a stage of stable growth. Statistics from the Ministry of Industry and Information Technology showed the output volume of electric scooters for the first nine months of 2018 stood at 20.238 million, a year-over-year increase of 4.6 percent.
Niu's Chief Executive Officer Li Yan observed there is no apparent difference among e-scooter brands and the industry has seen competition in the "red ocean". But the advent of lithium batteries has brought new development opportunities to the market, he added.
Li Yan also compared the electric scooter market with the smartphone market, commenting all smartphone vendors which currently occupy top positions in terms of sales volume were emerging companies which took advantage of science and technologies to make a difference.
As for the future of Niu, Zhang Peng was confident that capital market will revalue the company at a more reasonable level when the company gets more mature.
Email: wenqiao@nbd.com.cn