Mobike CEO Hu Weiwei quits, saying mission completed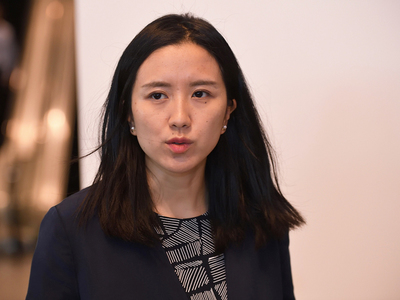 Hu Weiwei(Photo/VCG)
Dec. 24 (NBD) –Hu Weiwei, the founder of China's leading bike-sharing platform Mobike, has quit from the position of CEO, according to an internal letter sent by the female entrepreneur Sunday.
President of Mobike Liu Yu will succeed the role.
Hu said she has completed her mission at Mobike, and is willing to let go of the company, which she loves as her child, to pursue faster growth at the appropriate time.
The decision came eight months after Mobike was acquired by food delivery giant Meituan-Dianping for 2.7 billion U.S. dollars. NBD noted that on November 27, the shareholders of Beijing Mobike Technology Co Ltd changed from its founding team including Hu to two founders of Meituan including CEO Wang Xing.
Wang Xing, who is now chairman of Mobike, expressed gratitude to Hu for not only creating the excellent brand, but also building an excellent team and business ground, and wish Hu more achievements in the future.
In the letter Hu reviewed Mobike's shift of strategy after the acquisition, saying Mobike has stopped radical expansion and returned to the essence by emphasizing user experience and refining operation and maintenance, which resulted in significant decrease of costs and increase of revenue and orders.
She also confessed that currently the business model of bike-sharing is cast with doubt, but insisted she remains optimistic, saying bikes will still be needed 20 years later even in the age of self-driving, and encouraged Mobike workers to think in long-term.
Hu said she will continue working in the travel sector, which she deems is still at the intial stage of transformation.
She specifically mentioned in the end that there was no infighting, discord or organizational entanglement related to her leaving.
According to some employees' posts online, Mobike plans to lay off 20 percent to 30 percent of employees on posts including marketing, technology and finance that overlap with Meituan-Dianping, but the news is not confirmed by Mobike as of press time.
Mobike was co-founded by Hu in January 2015, and had since received multiple rounds of funding raising billions of U.S. dollars until fully acquired by Meituan-Dianping this April.
Backed by abundant capital, Mobike had engaged in cash-burning competition with archrival Ofo by offering subsidiaries to win larger user base. The practice was adopted as well when Didi, Kuaidi and Uber were fighting in the ride-hailing market.
Ofo failed to reach a merger or acquisition, which sent the company into disastrous financial trouble. Earlier this month over 10 million users demanded refund of deposits of 99 yuan(14.3 U.S. dollars) or 199 yuan (28.8 U.S. dollars) placed on the platform, which Ofo is struggling to cope with. Dai Wei, founder and CEO of Ofo, has been prohibited by court from luxurious consumption including fancy hotels and first-class plane seats.
Mobike has not seen profits either. According to Meituan-Dianping's prospectus for IPO, after the acquisition Mobike lost 407 million yuan (59.0 million U.S. dollars) from April 4 to April 30, meaning roughly a 15 million yuan (2.2 million U.S. dollars) of daily loss.
"We cannot turn down the whole bike-sharing industry and sharing economy because of the current plight Mobike and Ofo are in," said Zhang Yi, CEO of iiMedia Research. The habit of using rental bikes as a convenient solution to short distance mobility has been entrenched, with 90 million monthly active users by November, he added.
The high frequency and large user base of bike-sharing represent an important scenario that Internet giants cannot afford to ignore, said Zhang.
Email: limenglin@nbd.com.cn