12 mln views in 7 days - FQAs about Short Video Competition - Tianfu Through the Lens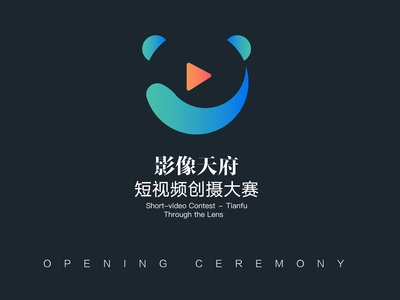 Dec. 25 (NBD) -- The Short Video Competition - Tianfu Through the Lens, which began calling for submissions a week ago, has caused a stir among video production institutions and enthusiasts in a lot of cities, including Chengdu, Hong Kong, Seoul, and Los Angeles. The related article has garnered more than 12 million views.
To date, entertainment agency Huayi Brothers Korea, internet celebrity Xiaoye, and many local video production studios have expressed the intention to participate in the Competition.
For anyone with an interest in the Competition, there is some must-read information depending on queries we have received.
Q: Should short videos follow the style of city promotion films?
A: The Competition consists of one- and three-minute categories. The one-minute-long videos are for release on social media platforms and the three-minute-long ones are for the purpose of public services and media presentation. Because of the video length requirement, short videos couldn't have the same style as city promotion films that are longer and feature rich contents. That means participants have to be more creative in content design and camera shots.
Q: What if I don't have any previous work?
A: The presentation of previous works, along with creative scripts, constitutes an important part of the preliminary selection. To enter the competition, you must ensure you submit all materials required. Then the panel of judges and the public will evaluate all entries based on participants' self-introduction, creative scripts, and previous works.
Q: Will you provide production team if I have great scripts?
A: Video production involves more than just good ideas. It also needs concerted efforts of directors, cameramen and post-production personnel. So if you want to take part in the Competition, you'd better to form a team as soon as possible.
Q: When will public vote be launched? Soliciting votes is not an easy thing. Will public vote be taken into account in the preliminary selection?
A: To ensure fairness, public vote will be launched when the registration ends, estimated to be between March 18 and March 29, 2019. This part is designed to promote the Competition and encourage the participation of the public. Public votes and expert reviews will be weighted in a 40/60 ratio in the preliminary selection process. We believe great ideas and excellent teams will gain sufficient support.
Q: Can I sign up for both categories of the Competition?
A: Sure.
Q: Will out-of-town shortlisted teams get other forms of subsidies when the shooting begins?
A: According to the rules of the Competition, shortlisted teams or individuals will receive an initial capital ranging from 20,000 yuan (2,902.0 U.S. dollars) to 80,000 yuan (11,607.8 U.S. dollars).
In the past week, we indeed received queries about costs from out-of-town people. Actually, the initial capital is offered to address the cost issues, so in principle, there is no other subsidy available. But for some special cases, such as foreign participants, it shall be discussed separately.
Q: Where can I learn more about the rules of the Competition?
A: You can scan or press to read the QR code attached at the end of the article to get the information.
Launched by National Business Daily, the Short Video Competition - Tianfu Through the Lens includes top Chinese entertainment media group Ciwen Media and Visual China Group's 500px as co-organizer as well as Chinese-language website of National Geographic as cooperating organization. The event offers prize money totaling 1.5 million yuan (217,646.8 U.S. dollars).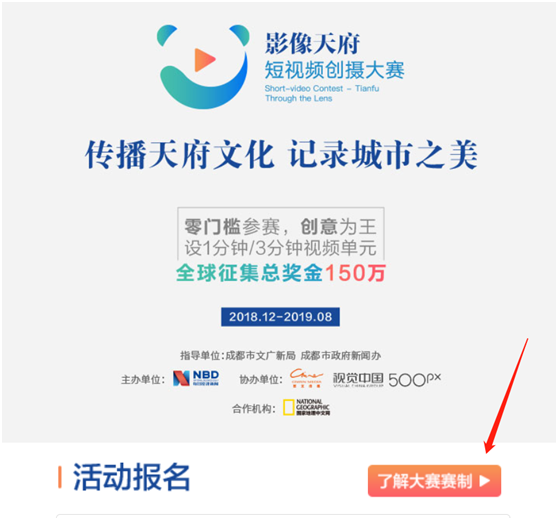 Deadline: All entries must be submitted by the midnight of March 17, 2019.
How to sign up: Registration can be done via the online registration portals accessible on NBD's official website (www.nbd.com.cn), official App, or WeChat and Weibo accounts. Submission materials shall be sent to spds@nbd.com.cn. Next, registration channels will likely be opened on VCG's 500px and Baidu's Baijiahao pages.
Materials required: 1. Self-introduction (both Chinese and English acceptable); 2. E-mail address; 3. Creative ideas or scripts; 4. One-sentence description of Chengdu; 5. Previous short video works of less than 3 minutes in MP4, MPG, or MOV format.
For more information, you can contact Ms. Luo or Ms. Wang via 86-028-86660288 during working hours (09:30-18:00) on business days (Beijing time).
Email: lansuying@nbd.com.cn