China to boost spectator sports sector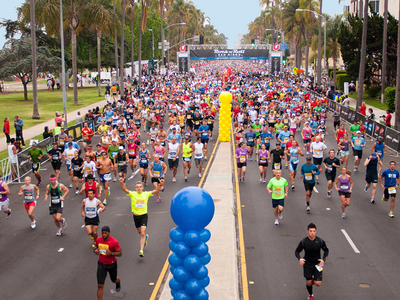 Photo/VCG
Dec.27 (NBD) -- China aims to boost its sports performance industry to achieve a market size worth 2 trillion yuan (290.3 billion U.S. dollars) by 2025, stated the General Office of the State Council of China in a newly released guidance document.
Wang Yuxiong, vice dean of the School of Sports Economics and Management with Central University of Finance and Economics, noted that the added value of the sports industry recorded an annual growth rate of over 10 percent since 2014, but most of the growth is contributed by participatory sports activities.
In addition, the sports manufacturing segment outweighs the sports service in China, whereas in foreign countries, it's the other way around, mentioned in an article on the website of the General Administration of Sports of China. That means there leaves much space for China's sports service sector to grow.
Against such background, the country plans to introduce 100 popular sports events and build 100 independently developed domestic sporting brands. In about five years, a batch of cities and regions that often host influential sports events or present sports performance will emerge.
Geng Xi, founder of a sports-related startup, told the 21st Century Business Herald that the increase of middle-income earners is speeding up consumption upgrading, which can be seen in the sports sector. Compared to four to five years ago, more people are willing to pay for a sports ticket.
But currently, supporting companies for large sport events are dominated by international service companies and domestic companies that have established long-term presence. Most of the newly emerging homegrown service teams in recent years are relying on large companies as a complementary role. To Geng, the most profitable companies in the field are those tailoring services for children, such as companies that take children abroad for summer camp activities.
It is noticed that both domestic and international sports companies are making greater investments in the sports service sector.
Li Ying, Vice President of Lagardère Sports Greater China, said the e-sports sector has seen growing investments in recent years. In Li's opinion, a complete industry chain is taking shape and is representing a trend.
Mass participation sports, such as fitness sports and marathon, also stand a chance to witness fast development, added Li. In 2019, Lagardère Sports is to expand its hospitability service in China and will work with the Chinese government and companies at home and abroad to introduce international sports events to Chinese cities.
However, for a long time, quality sports products fall short of general demand. The sports sector was deemed as a promising field to keep people healthy. But if no good sports contents are available, it would be hard to take advantage of the sector.
For the competitive sports sector, in specific, Wang deemed that it has a higher threshold for startups as the sector requires accumulated resources and consistent investments to build intangible assets and needs a longer time to get paybacks. The guidance document is expected to boost development of companies with certain IPs and further improve the profitability of CBA (China Basketball Association), Wang added.
Email: tanyuhan@nbd.com.cn