Automakers worldwide are slashing costs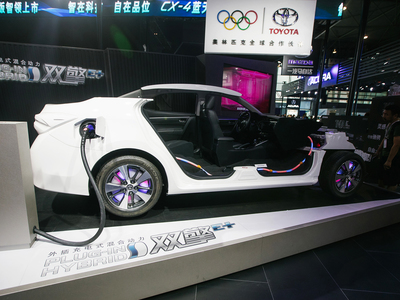 Photo/Zhang Jian
Jan.2 (NBD) -- "Toyota is to go paperless. Office workers were discouraged to use color printing two years ago, and now black and white printing," said an employee in Toyota China unit to news outlet Yicai.
A string of companies are beginning to slash costs as the auto industry faced a downturn last year. China, the world's largest auto market, missed its 30 million sales target and recorded the first negative growth in almost three decades.
Akio Toyoda, CEO of Toyota, expressed concerns at an internal meeting. Currently, Toyota is going through personnel changes and a cut in its office and public relations budgets for 2019.
Under serious pressure brought by industrial transformation, turmoil in auto market and reshaped business model, global automakers are struggling to make changes.
As part of larger transformation efforts, General Motors announced last year that it will shut down seven factories worldwide and reduce its salaried workforce by 15 percent, including a quarter of the company's executives.
Hyundai Motor is also ramping up its reforms as revenue slided. It has undergone the largest reshuffle of its executive team in recent years, which upgraded executives of departments such as R&D and slashed senior positions in non-core departments.
Morgan Stanley's auto analyst Adam Jonas said in an investors report that cutting costs and laying off employees is not only employed by Ford and General Motors. As the global auto industry is changing by the day, more auto makers will take steps to cut costs and restructure themselves, and finally turned to autonomous driving and new-energy cars.
China has overtaken the U.S. to be the largest auto market since 2009. As the industry is facing changes, car makers are also seen taking innovative steps to approach the market.
Some of them chose to set up joint ventures. Chinese automaker Geely, for example, became the largest shareholder of Daimler with the purchase of 9.69 percent stake in the German company for 9 billion U.S. dollars last February and the two parties set up a high-end ride-hailing joint venture last October.
China is also seen opening itself wider to the world by cutting auto tariffs and easing grips on foreign companies' equity in a joint venture. German automaker BMW took the lead to reach an agreement with Brilliance China Automotive Holdings to raise its equity in their joint venture to 75 percent from 50 percent.
Tesla, on the other hand, chose to set up its own factory in Shanghai, China. Currently, the ground of Tesla's Shanghai factory has been leveled and the factory is expected to be put into production in the second half of this year.
New-energy cars, obviously, is an important deployment for all automakers. Volkswagen (VW) plans to jointly invest 4 billion euros (4.6 billion U.S. dollars) in China, which will be used for electric cars, interconnection, mobility services and R&D. By 2020, VW is expected to deliver around 400,000 electric cars in China. Multinational car makers, such as Ford, BMW and Renault, were teaming up with local partners to set up electric vehicle joint ventures.
However, they are also facing fierce competition from local rivals, such as Nio, WM Motor, and Xiaopeng Motors.
As China auto market has been facing in-depth restructuring, some insiders believe that this year is to witness a moderate growth or even negative growth in the Chinese auto market. Xu Changming, deputy director of the State Information Center, publicly advised the car makers to set a zero-growth target.
It is noticed that uncertainties ahead has complicated the production projections. Currently, only a few carmakers have announced their production targets for 2019.
Email: tanyuhan@nbd.com.cn