CATL and BYD to remain dominators of China's power battery market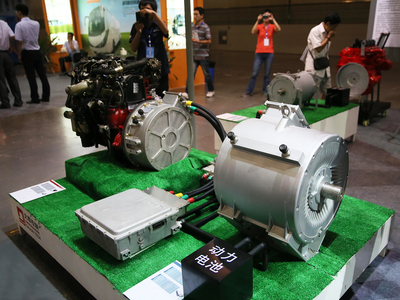 Photo/VCG

Jan. 2 (NBD) – China's output volume of new-energy vehicles (NEV) hit 1.054 million units in the January-November period last year, marking a 63.6 percent rise, while the sales volume registered 1.03 million units, increasing 68 percent year over year, a report from China Association of Automobile Manufactures said.
The growing NEV sector results in a boost in the power battery market.
In the first 11 months of 2018, the installed capacity of NEV batteries reached 43.53 GWh.
Two emerging giants are now dominating the market. Contemporary Amperex Technology Co Ltd (CATL) and BYD Co Ltd grab market share of 41 percent and 22 percent, respectively in the Jan - Nov of 2018.
Last year, CATL made aggressive expansion in the sector by cutting 30 percent of the price for battery products to 1.41 yuan (20.6 cents) per Wh on average. By doing so, it topped the power battery delivery of the year with 9.7 GWh of power batteries shipped in total.
The manufacturer then posted dynamic performance in 2018.
It reaped 19.136 billion yuan (2.8 billion U.S. dollars) in the first three quarters of 2018, while the net profit after reducing non-recurring items stood at 1.985 billion yuan (289.9 million U.S. dollars).
The surging need for power battery requires higher output capacity for battery firms.
CATL plans to build a power and lithium battery production line in East China's Jiangsu and a power battery project in Guangzhou.
The company's major rival BYD opened its new battery plant in June last year in Western China's Qinghai. The facility is scheduled to scale up to full capacity of 24 GWh by the end of 2019 and BYD is expected to achieve an aggregate capacity of 60 GWh by 2020.
The EV firm is shifting its business from lithium iron phosphate battery to ternary lithium battery which CATL is focusing on.
As China's new subsidy policy encourages higher energy density, electric vehicle manufacturers including Nio, Xiaopeng Motors and WM Motor tend to use ternary lithium battery with outstanding energy density.
BYD has delivered a series of plug-in hybrid models carrying ternary lithium batteries, like Qin 100 and Song DM.
After BYD finally decided to supply batteries for automakers in addition to itself in 2017, the battery producer is seeking for collaboration with auto brands at home and abroad. Dongfeng Motor Corporation has become one of its partners.
Compared to BYD, CATL went further in forging ties last year.
CATL became one of the battery suppliers of German automaker Daimler in May.
On December 20, 2018, Geely Auto announced that its wholly-owned subsidiary has entered an agreement with CATL to set up a joint venture company and the two sides will invest 10 billion yuan (1.5 billion U.S. dollars) to improve production capacity of power batteries.
So far, CATL has been partnering with automobile manufacturers such as SAIC, BAIC, Geely, CRRC, BMW, Jaguar Land Rover, and Volkswagen.
Though the two big players reported fast growth, small- and medium-sized NEV enterprises are still struggling for survival.
A number of battery suppliers encountered massive profits plunge in the first three quarters of last year. Sichuan Chengfei Integration Technology Corp Ltd, for example, even saw its net profit decline 1,214.46 percent in that period.
An industry insider predicted that with the intensified competition and the acceleration of industrial chain integration, only 20 to 30 power battery manufacturers will remain by 2020.
Email: zhanglingxiao@nbd.com.cn