Gaming phones present new opportunities?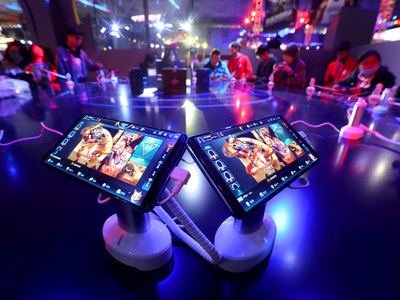 File photo/Zhang Jian
Jan. 7 (NBD) -- Some view gaming phone as an opportunity to start a business while some take it as a new way out for the increasingly saturated smartphone segment. In some sense, the popularity of hit mobile games has become a catalyst for the emergence of gaming phones.
Mobile games generated 70.3 billion U.S. dollars or 51 percent of the total of the global gaming market last year, predicted Netherlands-based market intelligence and analytics firm Newzoo. Smartphones were estimated to account for 80 percent of this, or 56.4 billion U.S. dollars, with the remaining 20 percent coming from tablets.
Games including King of Glory, PlayerUnknown's Battlegrounds, and Fortnite have had more than 200 million registered users, according to reports.
Along with the growing popularity of battle games come demanding hardware requirements for smartphones or tablets, a source with the gaming industry commented. Gamers playing such games care more about final results than those playing leisure games, thus they will have stricter requirements for hardware, maneuverability, and frame rate of displays.
Keen-sighted companies cater to those needs with the introduction of gaming phones. Seven phone models of such kind have been brought to market since November 2017. They all boast top-level processors, large memory, unique cooling system, hand grip, color-changing logo, and light band.
Branching out into vertical areas seems to be a new opportunity to smartphone manufacturers as the whole smartphone market is experiencing a downturn. While market shares are largely carved up by top players, overall shipments are declining.
As shown in a report by analyst firm IDC, global smartphone shipments totaled 355.2 million units in the third quarter of 2018, down 6 percent from the same period of the previous year. This marked the fourth quarter in a row that the global smartphone market has reported sales drop.
Small- and medium-sized smartphone makers are heading for exit or vanishing from the market. Probably, two to three generic smartphone brands can survive the fierce competition in the future, an industry source told online news platform awtmt. That's why many brands swarm to vertical areas, and if one could distinguish itself from competitors with specific, differentiated advantages, it would grab a relatively significant market share, the source added.
Singaporean global gaming hardware manufacturing company Razer was the first to venture into the gaming phone segment. The company has introduced two phones specially for gamers to date.
Other players in the niche sector include Taiwanese tech company ASUS, Xiaomi-backed Black Shark, and ZTE's premium brand nubia.
In December 2018, ASUS Chairman Jonney Shih said the company won't focus on cost/performance ratio any more, but will center on e-sports and professional users instead.
However, there remain many challenges.
Besides affordable prices, gaming phones must have characteristics optimized specially for mobile games, such as capacitive touch buttons that enable four-finger operation or improved cooling system. But these are far from enough to forge core competitiveness and form a separate category in the mobile phone market, the above-mentioned gaming industry source noted.
Achieving meaningful differentiation from ordinary flagship phones will be critical.
While PSP and Switch consoles are loaded with closed systems, gaming phones could ride on open systems, which will set them apart from others, said Wu Shimin, founder and CEO of Black Shark.
Email: lansuying@nbd.com.cn