Top auto manufacturers vie for crown of luxury car sales in China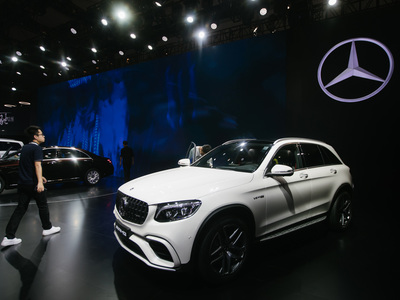 Photo/NBD

Jan. 8 (NBD) – Competition among three global automakers, Audi, Mercedes-Benz and BMW, in Chinese market heated up in 2018.
Benefiting from consumption upgrade trend, further localization of luxury vehicle brands and declining price of entry-level models, the high-end car market bounces upwards, with its market share in the automobile market rising from 2.7 percent in 2009 to 8.9 percent last year.
While BMW kept a steady growth, Mercedes-Benz, which has posted double-digit jump in sales over the past two years, almost caught up with Audi.
Topping the luxury car sales volume list for years in China, Audi now is challenged by rival Mercedes-Benz.
In the first 11 months of 2018, Audi's car sales stood at 595,436 units, exceeding the figure for the entire 2017, but less than 603,089 models Mercedes-Benz sold in the same period.
BMW's sales volume registered over 550,000 vehicles in the January-November period, climbing 7.7 percent year on year.
Surprisingly, last year Mercedes-Benz failed to dethrone Audi at the end of the game. Audi sold nearly 70,000 units within December of 2018, which helped the firm to stay at the first place of car sales.
In fact, the market leader Audi started to see a downturn in performance from 2014.
Cui Dongshu, secretary general of the China Passenger Car Association, pointed out Audi was significantly affected by changes in China's policies for government vehicle procurement since 2014.
2014 is also the year when the compatriot Mercedes-Benz began making efforts to develop new products and set up a sales unit. The automaker then achieved a year-over-year growth of 29.1 percent that year.
In 2015, though Mercedes-Benz's sales volume hit 373,000 units, up 33 percent from the metric of 2014, Audi's position has not been shaken. Audi sold 110,000 vehicles more than the BMW ranking second and nearly 200,000 units more than Mercedes-Benz.
The gap between Audi and Mercedes-Benz as well as Audi and BMW narrowed to 80,000 units and 40,000 units, respectively, in 2016.
The market pattern could be changed this year as Mercedes-Benz grows far more rapidly than Audi.
John Zeng, managing director of consultancy LMC Automotive Shanghai, said to improve performance, the luxury car brands should emphasize on efficiency and branding.
Besides, launching more new products could drive up car sales. China has become one of the most crucial markets for automobile giants, and luxury car manufacturers may consider bringing more models to Chinese market in the next few years, Zeng predicted.
Email: zhanglingxiao@nbd.com.cn