Ofo disbands overseas unit amid financial struggle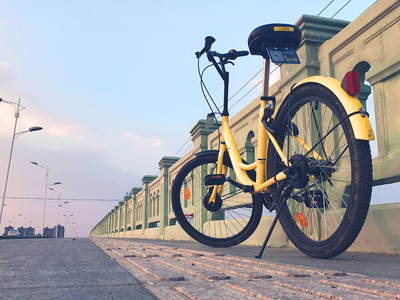 Photo/Shetuwang
Jan. 9 (NBD) – The troubled bike-sharing platform Ofo is disbanding its overseas unit, an employee told China Entrepreneur Magazine Tuesday.
Jeremy Chen, general manager of Ofo's overseas operation, announced the decision to over 50 employees Tuesday, and gave three verbal options: transferred to domestic departments with half pay till April or May when a compensation plan will be made; leaving the company with salary for last December and January but witout any compensation; employees who have neither left the company or got transferred before January 10 would only get half of the salary for last December, the employee said.
Ofo responded Tuesday the closure is a "normal business restructuring".
Currently Ofo's overseas unit still has business in countries and regions including China's Hong Kong, Singapore, the U.S., France, Italy and the U.K. No clear plan is made regarding whether to transfer these operations to domestic departments or shutdown for good.
The above-mentioned employee said the decision came as no surprise since the unit discussed adjustment of operational strategy in mid December last year and their scooter trial program in the U.S. was not going well.
Having failed to secure new round of funding nor finding buyers, Ofo was caught up in hot water in the past few months due to financial difficulties.
Last month, over ten million users lined up online to ask for refunding of their deposits of 99 yuan (14.4 U.S. dollars) or 199 yuan (29.0 U.S. dollars). Ofo's founder Dai Wei received consumption restriction order from court that prohibited him from luxury spending, due to unpaid bills to a logistics company.
Dissolving the overseas unit is one way to save costs for the cash-strapped start-up.
Ofo started overseas expansion in December 2016 and first landed in Singapore. By December 2017 it had entered 50 cities in 20 countries, and claimed to have provided 10 million rides for overseas users with over 100,000 bikes in use.
A former overseas unit employee told China Entrepreneur Magazine in an earlier interview that by November 2017, the company's management had realized the cash-burning strategy in foreign countries was unsustainable and decided not to deploy any new bikes.
In July 2018 Ofo said it would pause overseas expanding and instead focus on improving operation in key countries like Singapore, France and the U.S.
In the same month, Ofo informed Australian press that as per a "strategic decision" the company would phase out of Australia in 60 days. In October 2018, Ofo terminated its service in Japan's Wakayama Prefecture.
Mobike, Ofo's archrival, initiated the overseas expansion roughly at the same time, but started contracting its overseas operation since the second half of 2018. In September last year Mobike quitted Manchester after over a year's operation, mainly due to bike theft and vandalism.
The race to occupy foreign markets between the two bike-sharing giants has come to an end.
Email: limenglin@nbd.com.cn