China's e-sports industry highlighted in 2018, to be further commercialized in the future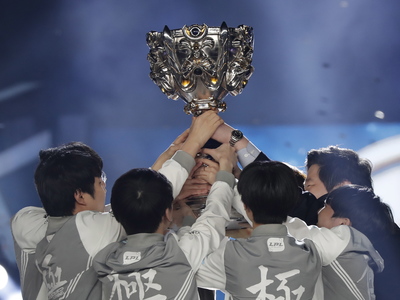 Invictus Gaming winning the championship/Dfic
Jan. 10 (NBD) – China's e-sports industry will embrace further commercialization, predicted Ying Shuling, chairman and chief executive officer of e-sports and pan-entertainment firm VSPN.
In 2018, China saw a boom in the e-sports sector, with constructive progress made. According to Gamma Data, the actual revenues from sales of the e-sports gaming industry reached 83.44 billion yuan (12.2 billion U.S. dollars) for 2018, a year-over-year increase of 14.2 percent.
Last year's Jakarta Palembang 2018 Asian Games witnessed the debut of e-sports as a demonstration event and China won two gold medals and one silver medal in the program. Chinese League of Legends (LoL) club Invictus Gaming won the 2018 League of Legends World Championship, which excited the whole nation.
Currently China is one of the countries that enjoy fastest growth and hugest attention in the e-sports industry and has become the first country that holds home and away e-sports games. The International 2019, a Dota2 event, and the 2020 League of Legends World Championship will be held in China this year and next year, respectively.
Through holding big events, China, as an e-sports hub, can bring e-sports culture to Southeast Asian areas and connect with North America and Europe based on the experience from practices in East Asia.
In Ying's words, China's e-sports industry has been increasingly influential across the world.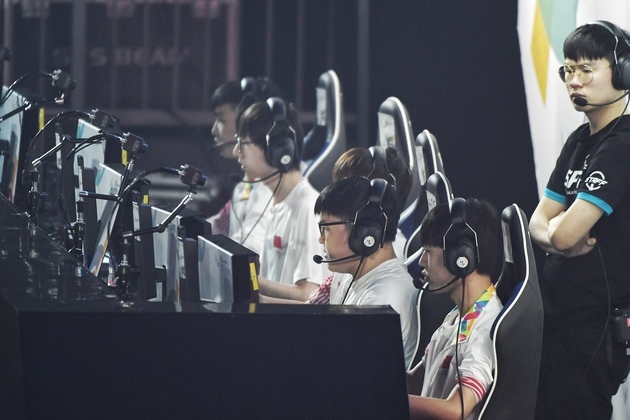 Chinese LoL team at Jakarta Palembang 2018/Dfic
In fact, before the prosperity, the e-sport industry endured a hard history, facing problems such as discrimination from mainstream values, lack of complete industrial chains and low salaries for athletes.
At that time when the development of the sector was hindered and many clubs were forced to dismiss, silver-spoon generation like Wang Sicong, son of Wanda founder Wang Jianlin, Kenneth Fok Kai-Kong, grandson of late Hong Kong billionaire Henry Fok Ying-tung, as well as Mario Ho Yau Kwan, son of casino tycoon Stanley Ho eyed opportunities in the industry and brought tremendous capital inflows.
An industry insider told NBD that the rise of China's e-sports industry should be partly attributed to the efforts of these people.
Now e-sports has won popularity with more investments poured into the industry.
E-commerce titans such as Suning.com, JD.com and Alibaba and video platform Bilibili also stepped foot into the e-sports segment. Hundreds of, even a thousand new e-sports clubs debuted last year.
Some people analyzed that the capital inflow would help clubs to provide better content operation, so as to create more contents with better qualities.
But Ying Shuling showed a rational attitude towards the pouring capitals, noting that currently the capital market has been sent to a chill, therefore companies should restrain themselves from burning through money and forge core competitiveness.
Additionally, Ying added the domestic e-sports industry is still short of high-quality backbone talents but he believed e-sports education titans will emerge the future as VSPN is endeavoring to make breakthroughs in the area by cooperating with universities.
Li Jieming, chief marketing officer at LoL club Royal Never Give Up, said to NBD that this year will be crucial to lay a foundation for China's e-sports in the global arena and hence the popularization of e-sports culture.
But not all investors are buoyant about the e-sports sector. Jin Cheng, partner of culture and entertainment fund of Hongtai Capital Holdings warned that the e-sports is merely part of the game industry and it will be hard for e-sports to seek commercialization if game developers don't offer authorization for games.
Email: wenqiao@nbd.com.cn