Baidu unveils new autonomous driving platform, eyeing logistics domain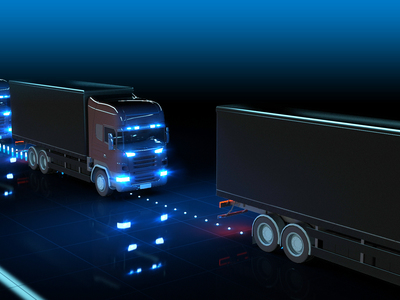 Photo/Shetuwang
Jan. 10 (NBD) –Chinese tech company Baidu announced at CES 2019 the world's first comprehensive commercial intelligent driving solution Apollo Enterprise and the new version of Baidu Apollo, an open-source self-driving vehicle technology platform that can operate urban road autonomous driving.
Baidu said a package labelled Apollo had been delivered from central China's Changsha to Las Vegas on the first day of CES by a local unmanned freight car after being sent to the U.S. via a fleet of self-driving cars and then a flight, marking Baidu Apollo's full coverage of logistics scenarios including trunk logistics, inter-city logistics and terminal logistics.
This is also the first completed unmanned delivery journey globally.
Baidu's latest iteration of platform, named Apollo 3.5, can perform in complex driving scenarios including driving in narrow lanes or non-signal intersections, and giving way to another vehicles by entering turnout lanes.
The company added that autonomous delivery service Udelv provided by Ford Motor's cargo van Transit equipped with Apollo 3.5 will start operation in Silicon Valley this year.
This is not the first move of Baidu to explore autonomous driving application in the logistics field.
In July 2018, the Beijing-based firm made a strategic investment in Lionbridge Capital, a smart service platform for commercial vehicles, and the two sides expected to forge collaboration in running self-driving vehicles for highway logistics and transportation.
In addition, it teamed up with Neolix Technologies to launch unmanned logistics vehicle Neolix AX1, which has been put into trial operation in Changzhou, Jiangsu and Xiongan New Area, Hebei.
It is widely accepted that the commercialized self-driving technology is most likely to be first applied in the logistics sector. As traditional logistics, Internet giants and tech start-ups are standing at the same starting line, more tech firms and Internet behemoths are seeking to beat logistics service providers, such as S.F. Express and Deppon Express, leveraging tech advantages.
Currently, a string of players have taken part in the game, and the autonomous driving technology has tapped various domains, from drones to delivery.
Baidu is facing a number of rivals in the logistics field, especially in the heavy truck transport.
Logistics solutions provider GLP, Internet of things firm G7 and Nio Capital jointly funded a driverless technology company in April last year.
In May, e-commerce platform JD.com released the L4 autonomous heavy truck in the U.S. In November, Deppon Express along with FABU Technology tested the unmanned truck in Hangzhou.
A report on China's intelligent logistics released by Deloitte China predicted that driverless truck, artificial intelligence and other technologies will gradually mature in a decade and will be widely used in warehousing, transportation, delivery and other links.
However, the commercialization of self-driving technology in logistics scenarios still faces many obstacles.
Insiders believe in addition to technology, the related insurances, claims, unemployment relief, safety and accountability system need to be further improved.
He Xiaofei, founder and CEO of FABU Technology admitted that the application of the technology in the sector is still at the initial stage. It is estimated that driverless trucks could be fully commercialized in the coming three years.
Email: zhanglingxiao@nbd.com.cn