Fast fashion losing ground among young people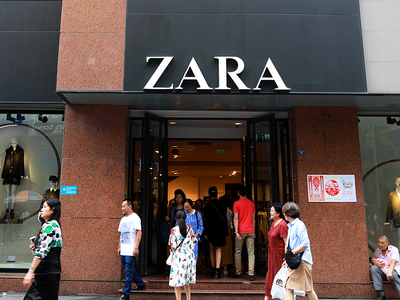 File photo/Zhang Jian
Jan. 11 (NBD) – Fast fashion brands with H&M and Zara as representatives began to lose ground among the young generation.
An industry insider held that as the profits of fast fashion industry are being slashed, the capital- and labor-intensive industry will hit the skids and possibly be rejected by consumers.
Global consumers currently buy annually about 80 billion pieces of new clothes, worth 1.2 trillion U.S. dollars. According to a report from McKinsey & Company, more than half of the garments from fast fashion brands are dumped within a year.
The generation born after 1990, as the main consumers for clothing, has been no longer satisfied with low-priced and mass-produced clothes and eager to buy creative products with uniqueness.
The latest report from fashion resale website Thredup revealed that 25 percent of female consumers, most of whom are youngsters, will stop purchasing fast fashion garments starting from 2019. It also showed that 40 percent of the millennial respondents will stop buying fast fashion clothing, and 54 percent of respondents aged from 18 to 21 decide to purchase higher-quality products.
According to market research firm Mintel Group Ltd, 33 percent consumers bought clothes once in a month in 2018, compared with 37 percent in 2017. The proportion of consumers who purchased clothes once in 2-3 months increased from 64 percent to 67 percent. Nearly half of consumers were inclined to buy clothes from brands that are more environment-friendly.
with the popularization of Internet, people began to be aware that behind the glamorous fast fashion industry with huge demand are hidden dark secrets, including issues related to environmental pollution, labor rights and interests, supply chains and female rights.
Then the fast fashion sector introduced the concept of sustainable fashion. A report claimed that consumers must recognize the scope of the concept is broader than expected, with their own consumption decisions included.
Caroline Chalmer, chief executive officer of Global Fashion Agenda, also noted that sustainability is highly related to environment, society and ethics, as well as production, fashion sales, communication with consumers and consumers' way of consuming fashion.
The market trend undoubtedly posts great challenges to the fast fashion industry, pushing the industry to a crossroad – whether to choose quality instead of quantity and whether to choose sustainability instead of rapidness.
Moreover, the cut-throat competition not only exists among fast fashion companies. Some brands are eyeing new opportunities and endeavor to grasp the consumers that turn their back on the fast fashion industry.
Samantha Dover, a senior analyst with Mintel, stressed that in the Internet era, consumers are more eager to know the sources and production methods of products. Therefore, fast fashion brands should consider making the production and supply chains more sustainable instead of merely setting several recycling bins for used clothes.
However, fast fashion essentially relies on commercial profits, and sustainability is now only a marketing concept since the profits will be sacrificed if fast fashion companies want to be truly environment-friendly.
Email: wenqiao@nbd.com.cn