13.46 pct of NEVs recalled in China in 2018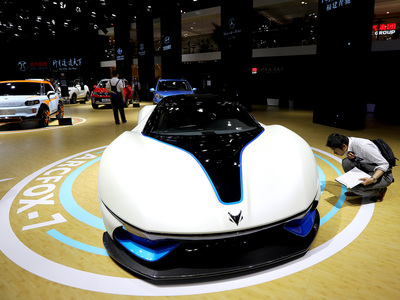 Photo/NBD
Jan. 23 (NBD) -- China's electric vehicle market still lacks recognition among consumers.
Data from State Administration for Market Regulation shows that seven new-energy vehicle (NEV) manufacturers including Land Rover and BMW Brilliance recalled some pure electric or plug-in hybrid electric models in Chinese market last year.
Market leader BYD took back 10,064 vehicles from Denza during the year, BAIC BJEV, another China's NEV giant, recalled 69,358 units in total.
As the wholesale number of new-energy passenger vehicles totaled around 1 million units last year, jumping 88.5 percent year over year, but 135,700 cars were recalled, up to 13.46 percent of the total.
Those vehicles recalled mainly had defalts in car battery, brake booster vacuum pump and special transmission.
Unlike traditional fossil cars, NEV's electric motor can't offer vacuum assist to master brake, thus the vacuum pump is needed. The failure of such component is a major trouble for NEV models.
In terms of batteries, the output of electric power for single-cell lithium battery carried by NEVs will accompany the release of heat, which could affect its performance, shorten the life span, or even cause thermal runaway, resulting in fire.
Ouyang Minggao, academician of Chinese Academy of Sciences and executive vice president of China EV100, said that thermal runaway is the main cause of spontaneous combustion of electric vehicles. The key to ensure the safety of the battery system is to develop advanced battery management system. In China, the battery management system still needs improvement.
It is noted that the residual value for NEVs keeps in low percentage.
A report revealed in December 2018, the average residual value for 3-year-old imported models, homemade models under joint venture brands and models from local independent brands stood at 63.5 percent, 63.9 percent and 57.4 percent, respectively. In comparison, the figure for 3-year-old new-energy cars is only 47.5 percent.
Luo Lei, deputy secretary-general of China Automobile Dealers Association, said the second-hand NEV price system has not been formed as the market is not mature.
Currently, electric models in Chinese market have yet to win consumers' trust.
A survey conducted by news outlet Securities Daily found that 65 percent of the respondents thought the decay of battery could affect the endurance of electric model, while 22 percent believed the depreciation rate of NEVs is high and about 10 percent worried about the battery quality.
Although, in as early as April 2015, Chinese regulators stipulated that new energy vehicle manufacturers should provide guarantee of no less than 8 years or 120,000 km. But there are no clear provisions for the warranty of power battery, such as the time for replacement and free replacement services.
To encourage consumers to purchase cars, several electric car companies attempted to carry out a buyback plan for their models.
However, since power battery represented a large percentage of the whole car expense, the high costs of battery replacement will seriously drag down the profits of an enterprise. Besides, no clear profit-making model for power battery recycling ever emerged. Most of those NEV makers, therefore, ended with no achievement.