Alibaba eyes to expand offline retail presence by buying stake in Metro China?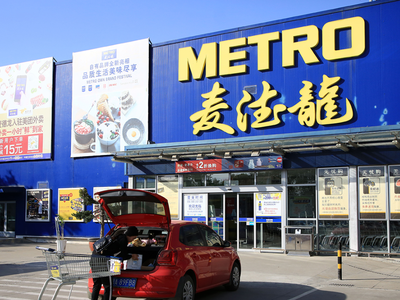 Photo/Dfic
Feb. 15 (NBD) -- Chinese e-commerce behemoth Alibaba Group Holding Ltd is in talks with Germany's Metro Group about taking a stake in the German wholesaler's China operations, Reuters reported Thursday citing three sources.
Alibaba declined to comment when reached by the 21st Century Business Herald.
Once Europe's second largest and the world's third largest retail conglomerate, Metro has been restructuring in recent years to focus on its core cash-and-carry business.
Since its entrance into the Chinese market in 1995, the German wholesaler has opened 95 stores in the country. In contrast, American retailer Wal-Mart that also entered China in the 1990s is operating hundreds of outlets nationwide.
To improve business performance amid the fast growth of e-commerce, Metro made several attempts in China in the past few years, but the results fell well short of expectations.
In 2010, the retailer and its sales division Media-Saturn entered into an agreement with Foxconn Technology Group to expand their reach in the Chinese market through the opening of consumer electronics chain Media Market. However, under the great pressure of Chinese home appliance retailing giants Suning.com and Gome, the Media Market business was completely shut down in 2013.
In 2014, Metro began testing the waters in the convenience store sector, but all the four My-Mart convenience shops wound up their business in 2017.
In 2015, Metro finally opened its door to individual customers, giving up the business strategy of focusing mainly on professional customers such as hotels, restaurants and small and mid-size retailers. The retailer once expected to develop a prosperous business in China based on its unique paid membership program, but didn't realize it's just the system that distanced itself from the main consumer group.
The talks between Alibaba and Metro are at an early stage and could still fall apart, the sources told Reuters.
Tech juggernaut Tencent and international conglomerate Fosun were also involved in such discussions with Metro in the second half of last year.
Alibaba's interest comes after Tencent last year signed a partnership deal with French retailer Carrefour, said Reuters.
Alibaba has spent more than 70 billion yuan (10.4 billion U.S. dollars) in the offline retail area, with retail companies invested including Intime Retail, Suning.com, Sanjiang Shopping Club Co., Ltd., Lianhua Supermarket Holdings Co., Ltd., and Sun Art Retail Group.
In addition to investing in traditional retailers, the tech company launched its in-house supermarket brand Hema Xiansheng in January, 2016. As of mid-January of this year, Hema Xiansheng owned 119 stores across China.
Email: lansuying@nbd.com.cn