Ikea to launch an online sales platform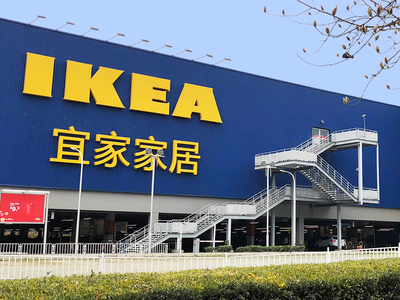 Photo/Xie Hongchen (NBD)
Feb.18 (NBD) -- Swedish furniture maker Ikea, which previously was not interested in online retailing, is embracing e-commerce by exploring the launch of an online sales platform, reported news outlet Beijing Business Today last Thursday.
The world's biggest furniture retailer is finalizing the details on its first test of selling on a third-party website such as Amazon or China's Alibaba, said Financial Times citing Torbjorn Loof, chief executive of Inter Ikea.
The partner is more likely to be Alibaba although the company denied giving a comment on this matter when reached by Beijing Business Today. A person familiar with the matter said Ikea is in talks with Alibaba but the proceeding of the matter will not be disclosed.
It is noticed that Ikea is facing slower growth rate in China. The furniture maker announced last August sales of Ikea would exceed 14.7 billion yuan (2.2 billion U.S. dollars) in fiscal 2018 in the country, an increase of 9.3 percent year on year, which is slower than that of fiscal 2017 (14 percent) and 2016 (19.4 percent).
Ikea has long emphasized brick-and-mortar stores, which make it convenient to showcase the details and crafts of its furniture. After entering the Chinese market, the brand is well received by Chinese consumers, but now it shows a weaker growth than local rivals.
Public statistics show that as of the end of 2018, Ikea has 25 stores in China, but the numbers of stores opened by its rival Red Star Macalline and Easyhome both exceed 300.
In addition, those local giants teamed up with Alibaba and Tencent to in new retail last year. Data shows a total of 48 furniture brands have reaped sales of over 100 million yuan (14.8 million U.S. dollars) during the Double Eleven Global Shopping Festival 2018 and Easyhome grossed 12.023 billion yuan (1.8 million U.S. dollars) in sales during the festival.
Alibaba's online platform can empower brands as it has many promotional activities such as group buying and T-mall "Best Buy".
Ikea didn't work with Alibaba before, but there are many Taobao stores that sell furniture made by Ikea. All such online stores have gained over 10,000 followers with sales volume reaching 1,000 pieces each month, which may lay a foundation for their partnership.
Actually, Ikea has long realized it is a must to transform from traditional stores to experience stores in China.
In as early as 2016, Ikea started to launch its e-commerce business in Shanghai by selling products online but only to Shanghai-based consumers at the end of August that year.
In March 2017, IKEA Beijing Wukesong Pick up & Order Points was opened. In August of last year, Ikea launched its first mini program on WeChat through working with Tencent.
In October of last year, Ikea lunched its official online store in China, covering 149 major cities across the country. One month later, it opened an experience store in Beijing to integrate online and offline retail. And the latest effort presents its new exploration of online retail.
Email: tanyuhan@nbd.com.