Samsung's first folding smartphone debuts as Huawei aims to lead the industry in 2019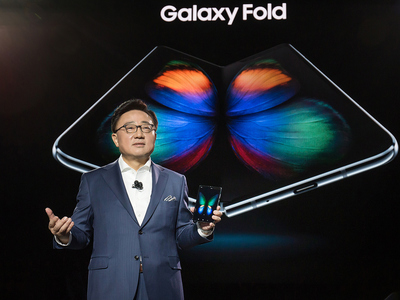 Photo/VCG

Feb. 22 (NBD) -- Samsung unveiled its new flagship smartphone Galaxy S10 and Galaxy Fold, the first-ever foldable model, on Thursday in Los Angeles.
The new folding phone has a 4.6-inch display on the front that is used for the normal phone mode and it can unfold into a 7.3-inch tablet aided by technologies like an Infinity Flex display and a hinge with interlocking gears.
The company said it has forged tie-up with enterprises such as Facebook, Alphabet and Microsoft to develop special versions of popular apps that are adaptable to the foldable screen.
The model will be launched on April 26 and its price starts at 1,980 U.S. dollars.
The new launch signals the intensified folding mobile phone race among phone makers.
As the growth of shipment volume slows down, Samsung intends to boost product sales through foray into a new phone model field.
Data released by research firm IDC last year, Samsung, which shipped a total of 292.3 million handsets, ranked first in the global smartphone market, followed by Apple (208.8 million units) and Huawei (206 million units), but the shipment of Samsung decreased by 8 percent from the previous year.
Despite the crown as the top smartphone vendor in market share since 2012, Samsung starts facing with growing challenges from rivals especially from Huawei.
The market share gap between Huawei and Samsung has narrowed from 11.2 percent in 2017 to 6.1 percent in 2018. It is reported that Huawei set a smartphone shipment goal of no less than 250 million handsets, a rise of 25 percent compared with that of 2018.
Yu Chengdong, CEO of the Consumer BG at Huawei, mentioned the company aims to overtake Apple, and even Samsung, and become the world's second or first smartphone manufacturer in 2019.
It is worth noting that the Shenzhen-based tech firm achieved a global shipment increase of over 30 percent last year, and its consumer business jumped by 50 percent year on year to reach the revenue target of 50 billion U.S. dollars a year ahead of schedule.
After Samsung's press release, Huawei revealed on the social platform that its foldable phone model has more possibility. Yu added Huawei's 5G mobile phone with folding screen that will be published at the Mobile World Congress 2019 in Barcelona are more than a product adopting 5G and foldable display technology.
Huawei now stands out in integration of supply chains as well as R&D capability in chips, which is similar to Samsung.
Samsung, unlike other global phone manufacturers, has remarkable ability of integrating the vertical industrial chains, which allows it to self-produce almost all the key components of a smartphone, including the screen, processor, memory, battery and chip. Along with the strong manufacturing capacity, it is able to launch flagship models ahead of its peers.
In addition, the company adopted a special production strategy to scramble for market share when it entered the high-end smartphone market.
Samsung chose to introduce its new flagship products during the time lag between the launches of iPhones, a way to avoid head-on clash with the market dominator Apple.
As for the difference between two companies, Yan Zhanmeng, research director at research institution the Counterpoint, pointed out Samsung's biggest strengths lies in memory and cameras, two areas in which Huawei has no close partners or its own unit.
Huawei's ace is its processor, Yan noted. Since the Chinese company started off with communications business, its communications processor Hisilicon has already surpassed those of Samsung. In terms of AI processor, Huawei has announced two AI chips in 2018 while the South Korean firm didn't make breakthrough in the field.
Email: zhanglingxiao@nbd.com.cn