Have great idea for video-making? $223,443 now offered to make it happen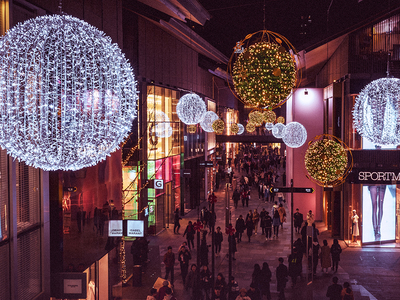 Sino-Ocean Taikoo Li Chengdu/Photo by Lan Suying (NBD)
Feb. 25 (NBD) -- The deadline to enter the Short Video Competition - Tianfu Through the Lens, which is 11:59 p.m. on March 17, 2019 (Beijing time), is just 20 days away.
The Competition, hosted by National Business Daily (NBD), is aimed at displaying the charisma and growing appeal of southwestern China's Chengdu. The prize money for the event totals 1.5 million yuan (223,443.7 U.S. dollars).
To date, over 80 individuals and teams from all over the world, including Poland, South Korea, and Japan, have signed up for the event. However, for reasons such as incompleteness of registration information, only 30 have successfully registered.
It is important to note that you don't have to finish the short video about the city before registering for the Competition, and only a wonderful idea or script for a one- or three-minute video is needed.
Materials required include: 1. Self-introduction; 2. Name and contact or E-mail address; 3. One-sentence description of Chengdu; 4. Previous short-video works of less than 3 minutes in MP4, MPG, or MOV format; 5. Creative ideas or scripts.
Registration can be done via the online registration portals accessible on NBD's official website (www.nbd.com.cn), official App, or WeChat and Weibo accounts.
An excellent idea will win you a prize of 1,000 yuan (149.0 U.S. dollars), and 20 entries will have the chance to win this award.
If you also have amazing video producing capabilities, you will stand a chance of signing contracts with organizers to transform your creative ideas into short videos, and an initial capital ranging from 20,000 yuan (2979.2 U.S. dollars) to 80,000 yuan (11917.0 U.S. dollars) will be granted to each shortlisted entry.
At the final awards ceremony, six best-performing contestants will be announced, and the top prize will reach as high as 400,000 yuan (59585.0 U.S. dollars).
What's worth mentioning is that Tencent Short Video Creation Alliance, top Chinese entertainment media group Ciwen Media, and Visual China Group's 500px are co-organizing the Competition. The Chinese-language website of National Geographic is also a cooperating organization.
If you are good at making short videos or have fantastic ideas, please don't hesitate to get in touch with us.
Display of some early videos by participating indiduals or teams
We hate to miss great works, so please read carefully the following information to ensure successful registration.
Q: Do I need to submit shooting scripts concerning the city?
A: Absolutely yes. In order that you have plenty of time for content creation, you can first send us other materials required, and the scripts can be submitted by March 10, 2019.
Q: Is there any restriction on registration as individuals or teams?
A: The Competition is open to both individuals and teams, but all registration information shall be authentic.
Q: Is there any restriction on the video's theme?
A: Short videos shall focus on the healthy and positive side of Chengdu, be it about persons or things or sceneries.
Q: What are the selection standards?
A: There are three standards: correlation degree between theme and contents, ideology delivered and artistic quality, and audience size. A panel of judges has been set up to grade submissions and the public will be invited to vote. Public votes and opinions of the panel will be weighted in a 40/60 ratio.
Q: Why do I have to submit early works?
A: Early works, in addition to creative scripts, will give the panel of judges a direct understanding of your production capabilities, so that they can give relatively accurate suggestions. Besides, the public can know you better through your previous videos.
Q: It's not easy to upload videos. Is there something wrong with the video uploading system?
A: We have run a full system check but no issues were detected. In that case, you might have to check your network condition or look at whether you follow the format requirement. If there is nothing wrong with the format, you can upload the video another time. Also, you can send registration materials to spds@nbd.com.cn.
For more information, you can contact Ms. Luo or Ms. Wang via 86-028-86660288 during working hours (09:30-18:00) on business days (Beijing time).
Email: lansuying@nbd.com.cn