The 'Amazon coat' from Chinese brand hits New York City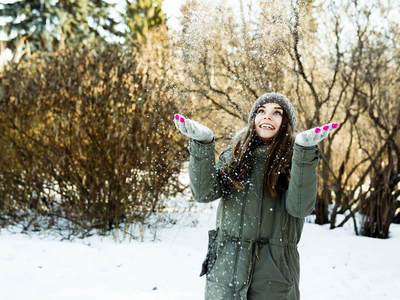 Photo/VCG
Feb. 25 (NBD) -- A winter coat from Chinese fashion label Orolay has topped the coat sales list on Amazon website for a while.
The jacket priced at 129.99 U.S. dollars to 139.99 U.S. dollars is now known as the "Amazon coat" and becomes popular among people living in New York.
It is made by a cross-border e-commerce retailer located in east China's Zhejiang Province. The founder Kevin Chiu started his online apparel business early in 2012, and down jacket sales accounted for 80 percent of the total. In the first year of operation, the shop sold merely 400 more pieces.
In 2018, Qiu came to realize his down jacket has became a hit in some parts of the United States through an article titled The Unlikely Tale of a $140 Amazon Coat That's Taken Over the Upper East Side released in March on the New York magazine.
"Gretchen Fenton, a style consultant who lives on the Upper East Side, first noticed the coat on her friend Fernanda Niven, a creative director who also lives on the Upper East Side. Fernanda heard about it from Cayli Cavaco, the founder of Knockout Beauty, and told some 20 people about it," the article introduced.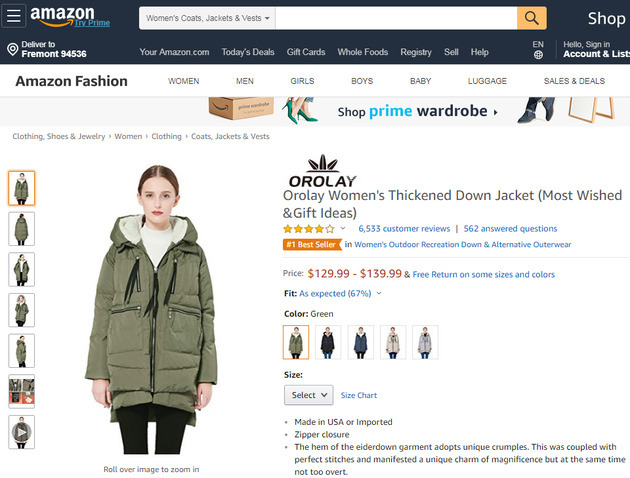 Orolay Women's Thickened Down Jacket on Amazon
The Women's Thickened Down Jacket has been reviewed over 6,500 times on Amazon and offers five different colors.
The article listed three reasons for Orolay coat's popularity, slightly avant-garde effect, low price and easy order placement.
Compared to outerwear from designer labels such as Canada Goose and Moncler from France, the coat price of which reached upwards of 900 U.S. dollars, Orolay jacket is apparently more affordable.
Last month, the article's author wrote another piece saying that the coat has also been well received in Philadelphia and Detroit and Canada for the same reason.
This winter, "why the 'Amazon coat' is hot?" has been a topic on websites and TV stations.
Currently, Chinese online shops constitute an important part of Amazon.
Statistics from Marketplace Pulse, an e-commerce think tank, show one-third of vendors on Amazon are based in China. The number of successful Chinese sellers on the website has doubled in the past two years.
Besides, Chinese merchants, as the most creative sellers among all, create a new product every 0.02 second on average. 60 percent of the products they are selling were launched within one year, 50 percent of which are among the 10,000 best-selling items.
Of the top Amazon sellers, 41 percent are from China. The e-commerce site has unveiled a "brand+" service in a bid to help Chinese sellers with brand building.
Email: zhanglingxiao@nbd.com.cn