Railway firm to raise funds on A-share market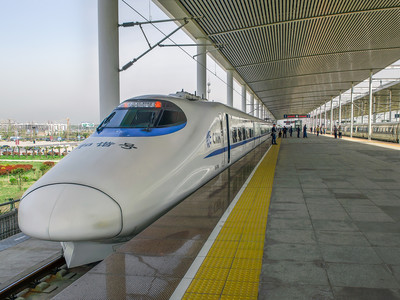 Photo/Shetuwang
Beijing-Shanghai High-Speed Railway Co Ltd, a unit of China Railway Corp and the company that runs the Beijing-Shanghai high-speed railway, is planning to raise funds through an initial public offering on the A-share market, it said in a regulatory filing on Tuesday.
Launched in 2011, the Beijing-Shanghai railway line is one of China's most profitable high-speed routes.
The public float is seen as a significant step in the State-owned enterprise's efforts to promote mixed ownership reforms and optimize its capital structure. Company officials expect to complete the preparatory listing work by the end of this year.
The Beijing-Shanghai High-Speed Railway is 1,318 kilometers long and spans seven provinces and municipalities including Tianjin, Hebei, Shandong and Jiangsu. It is regarded as the country's premium transportation asset and has since its start in 2011 hosted 940 million trips.
A spokesperson for China Railway emphasized that by raising funds from the market, the company will be able to securitize its assets. Securitization is the practice of pooling various types of contractual debt, such as mortgages, and selling their related cash flows to third-party investors as securities.
"It will increase funding for the transportation business, boost socioeconomic efficiency, services and help State-owned railway enterprises establish a market-oriented operating system," the spokesperson said.
China Railway has been actively engaging in securitization and optimization of its assets. Last April, the company signed a strategic cooperation agreement with the Shanghai Stock Exchange for railway construction bonds, railway capital securitization and plans for its subsidiaries to go public. Earlier this month, China Railway Special Cargo Services Co Ltd, another subsidiary of China Railway, completed its share transfer, another significant push in its mixed ownership reform.
Zhao Jian, a professor at Beijing Jiaotong University, said such steps were necessary to ease the financing constraints in railway construction.
"For example, profitable companies such as the Beijing-Shanghai High-Speed Railway Co Ltd can go public and become financing platforms for China Railway," he said.
"There are a number of premium assets in the country's railway system, such as the commercial properties around railway stations and railway projects for resource transportation," said Xu Weihong, chief economist of AVIC Securities. "Profitable assets can be securitized so as to lower China Railway's debt ratio," he said.
Email: limenglin@nbd.com.cn