IMAX is gaining stronger foothold in China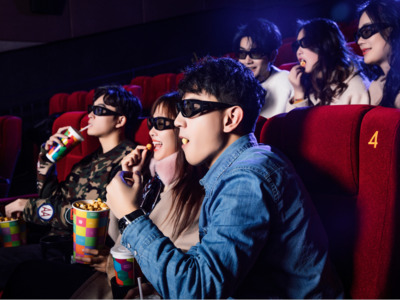 Photo/Shetuwang
Feb.28 (NBD) -- IMAX China, the Hong Kong-listed subsidary of the Canadian cinema technology company IMAX Corporation, released its full-year 2018 financial results Wednesday, displaying a good market performance amid a market downturn.
Statistics showed IMAX China delivered a record 337 million-U.S. dollars of box office last year, up 16 percent compared to 2017.
IMAX box office over the Chinese New Year holiday period increased 40 percent, compared to the industry, which is flat. Richard L. Gelfond, Chairman of IMAX China, said it may be driven by the blockbusters such as The Wondering Earth and Alita: Battle Angel.
The soaring box office encourages the expansion of IMAX cinemas. As of the end of 2018, IMAX commercial footprint reached 624 systems, with an additional 272 new systems in backlog, according to the report.
There are about 1500 IMAX cinemas worldwide and more than 600 of them are in China. China has become the largest market of IMAX corporation in terms of the number of such cinemas, said IMAX CFO Patrick McClymont to the 21st Century Business Herald in an interview.
However, the growth of its overall revenue and profits have slowed down, which might have been influenced by the sluggish overall film market in China.
It is noted that around 167 cinemas were closed in the first half of 2018 in the country and the total number of film tickets sold were down 11.9 percent during the Spring Festival holiday.
According to a report released by Deutsche Bank, the box office of IMAX China is expected to increase 10 percent this year, a slight decrease from 15 percent of last year.
Zhang Heng, chief media analyst with Guosen Securities, explained to the 21st Century Business Herald that despite a dim market, IMAX is still growing. There is room for expansion in the third- and fourth-tier Chinese cities.
But when it reaches a certain point, the IMAX box office might be affected by the quality of movies due to high cost of IMAX tickets.
It is a real concern for the cinema technology company as domestic industry giants are also eyeing the sector. To address the issue, IMAX has been expanding its industry chain.
On December 27 of last year, IMAX Hong Kong bought 15-million-U.S. dollar of shares in Chinese online ticketing provider Maoyan Entertainment as a cornerstone investor.
With regard to the deal, Patrick deemed it a strategic investment. Maoyan is a leading online entertainment service platform and it has a great data analysis team. It also excels in distributing and marketing. "That's where we can cooperate with," Patrick revealed to the 21st Century Business Herald.
In addition, IMAX also tried to deploy in the upstream of the industrial chain. It tries to work closely with directors, film producers and production team in America, in a bid to make better viewing experience on the IMAX screens, said Patrick.
Currently, the mode has been successfully applied in China. A film literally translated as Eight Hundred, directed by Guan Hu, will be China's first production filmed with IMAX video camera from the beginning to the end, Patrick noted.
Email: tanyuhan@nbd.com.cn