Chongqing's B&B industry suffers 'sequela' of being an Internet sensation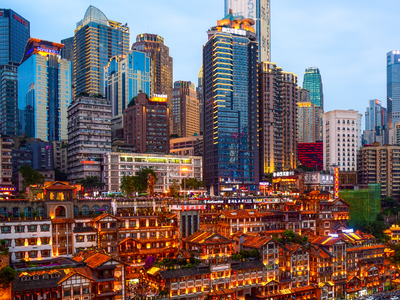 Hongyadong, an old-style stilted complex in Chongqing(Photo/Dfic)
Feb. 28 (NBD) –At the end of 2018, the number of B&Bs (Bed and Breakfast), an accommodation type, in Chongqing, a city in southwest China, has exceeded 33,000, more than six times the number of a year ago, according to statistics from Chinese homestay booking platform Tujia.com.
During the period, Chongqing embarked on the journey of being an online celebrity via video sharing platform TikTok and started reaping profits from the tourism industry, which exerted the most direct influence on the homestay accommodation segment.
As B&B consumers and TikTok users in China highly overlap each other and the threshold for entering the B&B market is relatively low, the number of B&Bs in Chongqing rocketed up within several months, becoming oversupplied.
The rise of the B&B sector could be also partly attributed to the efforts made by Chongqing government to build tourism into a pillar industry.
However, within only half of a year, the rents which the landlords have to pay for a house with favorable location and spectacular views in Chongqing increased by a whopping 260 percent, and consequently the profits garnered by B&B landlords quickly shrank.
Due to the souring rents and lack of diversity, a raft of B&B owners struggled to make ends meet and the industry started to experience reshuffle.
Some people joked that the industry is like a "fortress besieged" with insiders desperate to go out and outsiders in. The increase in the number of tourists visiting Chongqing lagged behind the rocketing growth in the number of homestay hotels in the city.
As a result, homestay operators began to cut compete with each other through price cuts for alluring customers. Some even sold a night-stay in a house with three bedrooms and one living room at 180 yuan (26.9 U.S. dollars), which a landlord called unreasonable.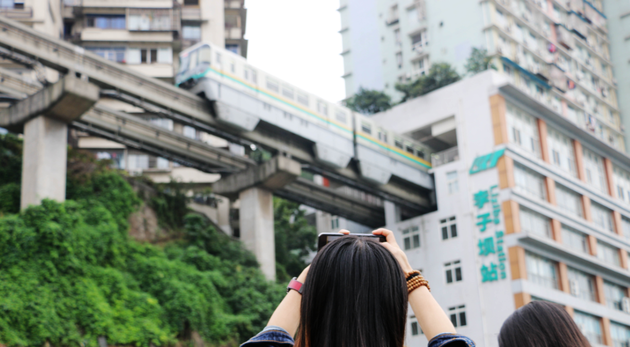 Light rail in Chongqing passing through an apartment building(Photo/Dfic)
Reshuffle in the B&B sector is happening not only in Chongqing but also in other hot tourst destinations like Dali and Xiamen. But seeing the bigger picture, one can find that giant players at home and abroad are still expanding actively. Last year saw many B&B chain brands secure funds from industry giants such as Airbnb, Ctrip.com, Tujia.com and an industry fund of 58.com.
Against the background of rapid development of the overall B&B industry, Chongqing still witnessed a declining occupancy rate of homestay hotels. What are the reasons behind?
Famous cities online like Chongqing, benefited by their online popularity, have experienced a certain period of fast growth in the B&B sector. But the benefits brought by being an online sensation are temporary, and the priority for those cities is to grasp the opportunities and transform them into development engines, so as to get rid of the "sequela" of being famous.
Email: wenqiao@nbd.com.cn