Is reality show a spur to Chinese musical market growth?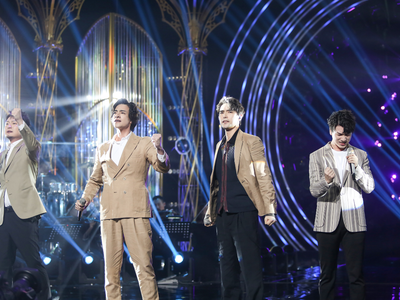 Photo/Dfic

Feb.28 (NBD) -- Chinese musicals seemed to follow a fast track of development after a TV talent contest for opera singers and musical performers became a hit late last year.
The show named Super Vocal presents operas and musicals in a fashionable way, aiming to introduce the charm of bel canto singing and prowess of performers to audiences.
Zheng Yunlong, one of the contest participants, won popularity among show fans. A graduate of Beijing Dance Academy, he has been acting in musicals for 8 years and received 2018 Musical Academy Awards in China.
The number of its followers on social media platform Sina Weibo has rocketed from 3,000 to over 720,000 since he stepped on the stage of Super Vocal.
As a raft of musical performers came into the spotlight in reality shows and are sought after by the young generation, the market witnesses a trend of idolization.
This commonly occurs in the overseas musical market. The popular stagedoor culture is an example. In South Korea, plenty of idols such as Super Junior's members Kim Ryeo Wook and Cho Kyu Hyun and JYJ's Junsu act in musical dramas regularly. In addition, the famous Japanese all-female musical theater troupe Takarazuka Revue also has its own fan club.
Contestants like Zheng are seen to attract more audiences to theatres and draw people's attention to the opera and musical market.
On January 4, tickets for second performance round of musical Letters in which Zheng plays a role were snapped up in one minute, sparking heated discussion on the Internet.
Later on Monday, Zheng's another musical Murder Ballad appeared on the list of trending topics on Weibo over alleged accusation of exorbitant prices. Tickets for the musical in Beijing were set at 380-880 yuan (56.8-131.5 U.S. dollars), a big jump from 100-260 yuan (14.9-38.9 U.S. dollars) for the one in Shanghai a month ago.
The entertainment ticketing app Damai.cn, host unit for Murder Ballad, explained that the musical ticket prices for different cities are affected by the cast, total capacity of the venue, the local government's policy support and costs of the performance.
Eyeing the remarkable potential of the industry, Damai.cn's music brand Mailive has launched a plan to invest 300 million yuan (44.8 million U.S. dollars) in dramas and musicals, with the first plays invested including Journey Under the Midnight Sun and The Wizard of Oz.
Last year, China's two major musical markets Beijing and Shanghai presented outstanding growth.
The number of musical audiences in the Chinese capital increased by 26.7 percent to 429,000 during the year. A total of 351 performances were staged in 45 theaters in Shanghai as of August, drawing an audience of 323,000.
But Man Ding, art director at Inside-Out Theater, emphasized that the Chinese musical market has not yet entered the stage of industrialization.
Ticket sales of musicals without celebrated performers maintained lackluster in contrast to those with famous stars.
A truly mature industry should be able to make numerous performers like Zheng Yunlong to achieve fame with its own platform, instead of contrarily borrowing a person's reputation gained from other domains, said Man.
Man noted despite several years of development of the musical market, talents for all links from production to creation are still in short supply. "Now it is very difficult to find talents for musical performance. In fact, one or two people can't solve this problem in the short term," he said.
Email: zhanglingxiao@nbd.com.cn