Nike moving into eSports by teaming up LPL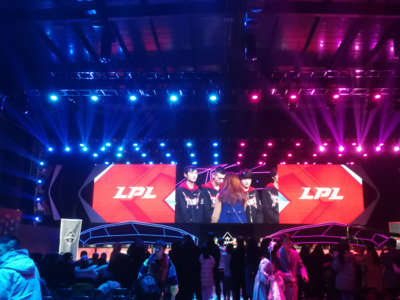 Photo/NBD
March 1 (NBD) -- What was once a rumor is now official: sportswear maker Nike is moving into eSports.
TJ Sports, the joint venture of Chinese technology giant Tencent and American video game developer Riot Game, announced a 4-year partnership between Tencent-backed League of Legends Pro League (LPL) and Nike in Shanghai Thursday.
Jin Yibo, co-CEO of TJ Sports, noted that eSports is a type of digital sports. The partnership with Nike can improve its sporting value and bring it into people's life in a more subtle and effective way.
Under the agreement, Nike will provide customized apparels, shoes, LPL-featured sporting products and other derivative services. Besides, it will help players improve performance by providing professional body training for them.
This is the first time Nike has formally sponsored an eSports competition, which might be attracted by its growing influence in recent years.
It is worth noting that 2018 is a year for LPL. China LPL teams made their way to the top both in the LPL Mid-Season Invitational and Rift Rivals. China team also beat South Korean team as the champion in Asian Games. Later that year, LPL's IG took the crown in the final of S8 tournament.
Moreover, in 2018, the number of audiences that watch live-streaming of LPL games hit a record high worldwide reaching 15 billion along with the time spent exceeding 2.5 billion hours, the two figures both representing a 50 percent increase.
Currently, it has 16 teams in total. Six LPL teams have finalized offline gaming arenas, among which Hangzhou-based LGD, Chengdu-based OMG and Chongqing-based Snake win an attendance rate of over 90 percent on average in each competition.
In addition, it has great commercial value. Prior to Nike, around 50 big names, such as car maker Mercedes-Benz, fast food restaurant KFC, personal care company L'Oréal and computer manufacturer Alienware, have become sponsors of the eSports league.
What's more, the whole industry is growing.
According to the Sports Survey 2018 released by PwC, it gave eSports its top rating in term of "potential to grow revenues globally," putting it one spot above soccer-the world's most popular sport-and six spots in front of American football.
China has 250 million eSports users and 60 percent of them are under 25 years old, based on the 2017-2018 report on China's eSports industry released by Tencent's industry analysis arm. That means it can provide Nike numerous potential young customers.
However, it is noted that Nike is not the first traditional sportswear company to team up with eSports clubs.
In March of last year, local sportswear maker 361 Degrees took the lead to land a deal with eSports club QG and unveiled related apparels. Following its footstep, America sportswear manufacturer Champion and China's Li-Ning soon announced their entry into the eSports sector.
It is worth noting that Li-Ning, sponsor of LPL's EDG club, is likely to have overlapped interests with Nike.
Industry insiders previously told that some eSports clubs are not happy about the fact that they cannot find sponsors as they like. Although LPL has announced its partnership with Nike, it doesn't mean the league has balanced the interests of each separate party.
Email: tanyuhan@nbd.com.cn