Campus of a Xi'an university up for auction over illegal fundraising
Mar. 1 (NBD) – A campus of Xi'an Huaxi University in nouthwest China's Shaanxi Province will be auctioned by the Xi'an Intermediate People's Court on March 14 on Alibaba's Taobao page for judicial sales.
The assets to be sold include movable property (facilities and equipment), buildings, pipelines and grooves, and even 438 green seedlings.
The biding price starts at 425 million yuan (63.5 million U.S. dollars), and a deposit of 100 million yuan (14.9 million U.S. dollars) is required for bidders.
This is second time the campus was up for auction online after it failed to sell in late June last year with a starting price of 500 million yuan (74.7 million U.S. dollars).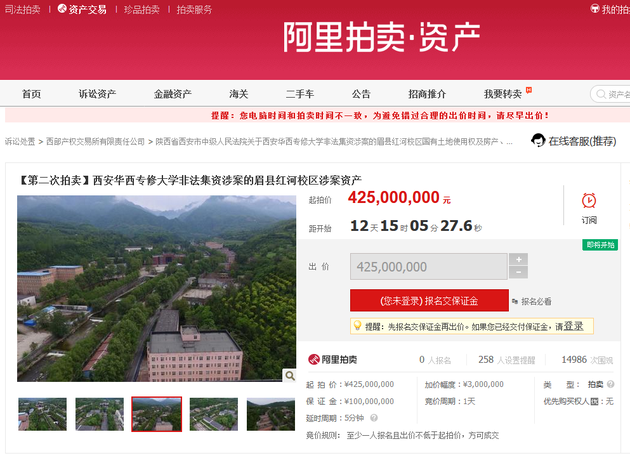 Auction page for Xi'an Huaxi University campus on Taobao
The sale of the property resulted from illegal fundraising of the university's faculty members.
In 2005, the then president Wang Mingliang along with others set up a financing team to gather funds for so called poverty alleviation through education.
With agreements signed with 14,931 investors which offer 10-16 percent of annual interest rate for loans, the university collected as much as 2.39 billion yuan (356.9 million U.S. dollars) during seven years since 2007.
In additional to 686 million yuan (102.5 million U.S. dollars) for business personnel's commission, the rest of the proceeds were used for land purchases, school equipment, foreign investment and other projects.
So far, the principal and interest totaling 1.29 billion yuan (192.7 million U.S. dollars) has been repaid and the remaining 1.11 billion yuan (165.8 million U.S. dollars) hasn't been returned.
The official website of Xi'an Huaxi University shows it formed collaboration with a bank in 2002 to provide self-motivated but needy students with financial aids. The students are allowed to repay loan progressively after they find a position after graduation. The program is said to help students complete the college study while paying only one third of the tuition and fees charged by an ordinary university.
President Wang Mingliang was awarded "China's outstanding private education developer" and "China's top 10 private education developers" and other titles in 2015-2012. Xi'an Huaxi University was also chosen as a "model university" by the Xi'an education bureau.
However, the university took out credit card loans in the name of students, resulting in the students being blacklisted by banks.
In 2014, some students who accepted financial assistance found themselves with overdue loan unknowingly.
Yu Qiulin, then deputy dean of student affairs, explained the university failed to pay off the money due to capital chain issue.
The university was accused of illegally absorbing public deposits by public prosecutor and 18 faculty members including Wang are involved.
The case came to trial at the Xi'an Intermediate People's Court last June.
At the beginning of 2014, Shaanxi Province's education regulator terminated the student admission of the university.
The auction received around 15,000 views, yet no one has placed a bid as of press time.
Email: zhanglingxiao@nbd.com.cn