Pig-breeding becomes hot in China, but many pigs are abandoned after growing up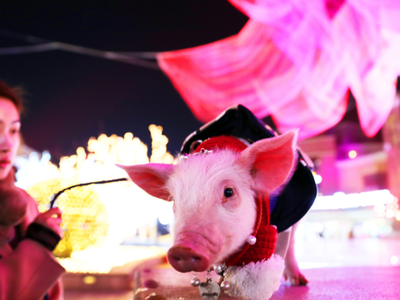 Photo/Dfic
Mar. 4 (NBD) – Raising pet pigs is becoming a trend in China in the Year of the Pig in the Chinese Zodiac, as the celebrities's pig-petting photoes and videos took the social network platforms by storm.
After Peppa Pig, a British preschool animated television series, prevails on TikTok, it's now the real pigs' turn to become a boom.
On video sharing platform TikTok, one can enjoy the eating broadcast of a cute pig, gnawing fruits with satisfaction with its tiny pink nose filling the screen. Millions of users are fond of watching pet pigs eating, showering, snoring and even "making new-year greetings". The hashtag "Pet Pigs in Families" has been viewed over 610,000 times on TikTok and the super topic "Pet Pig" on Weibo has been viewed 89 million times.
These lovely creatures are also welcomed by advertisements and magazines. Undoubtedly, pet pig is now one of the most fashionable "social currencies".
On Alibaba's shopping website Taobao, various kinds of pet pigs are sold at 300-500 yuan (44.7-74.6 U.S. dollars) each and numerous sellers can sell hundreds of pigs in a single month.
As more and more people choose to live alone without company in modern urban life, they are inclined to form a close relationship with pets, transferring their emotion to animals and treating pets as family members.
Kate Lee, who is interested in everything relevant to pigs, is a "mother" of a pig nicknamed Dudu. During the first half month after raising the pig, she was on the edge of freaking out.
"I was regretting all day long for buying a pig at that time," she said to news outlet Jiemian.com, "it always turned the house dirty."
After training the pig for some time, Kate and Dudu finally got closer. "It's like a child, smart and human," Kate described, "sometimes I feel it's much cleverer than cats and dogs."
But, adorable as the piglets are, brutal facts and serious problems still exist. What if the enchanting tiny creature becomes a colossal beast weighing 150 kilograms with ill-favored appearance?
Most pet vendors promise that pet pigs are a special species and they will only grow to dozens of kilograms at most if the diet is controlled. But actually this is totally a lie and a marketing gimmick. The growth period of pigs last as long as three years and one may never know how big they will become until the last minute.
As a result, some pet pigs either become irascible and aggressive or die due to diet control since piglets under three-month old are highly vulnerable. More grimly, some are abandoned or even butchered in rural areas of China after growing up.
For all pig breeders, it's hard to part with the intimate pets which have accompanied them for years. But a pet weighing 150 kilograms is also a heavy burden for people in the limited living environment.
Currently, China is short of large-scale animal rescue shelters and consequently moving the grown-up pets to countryside is the most common way of disposal.
Email: wenqiao@nbd.com.cn