White Rabbit ice cream hits Los Angeles
Mar. 4 (NBD) -- Right before Starbucks' limited-edition cat paw cups make Chinese consumers infatuated, a snack made from a Chinese candy has swept the east coast of the U.S. since February.
At the beginning of last month, Los Angeles-based ice cream shop Wanderlust Creamery launched a plain white product with taste of milk and sugar called White Rabbit ice cream in celebration of the Chinese New Year. The dissolved candies from Chinese sweets brand White Rabbit were added to the snack and it is also packaged with the original wrapper of the candies.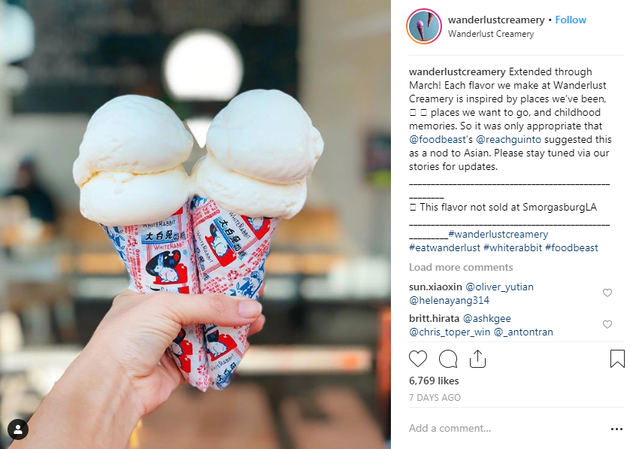 Photo/Wanderlust Creamery's Instagram account

Wanderlust Creamery co-founder Jon-Patrick Lopez said about 1.3 of the Chinese candies are used in each scoop of ice cream and the ice cream tastes exactly like the White Rabbit candy.
The new release was unexpectedly snapped up. Another co-founder Adrienne Borlongan introduced that the store sold 50 gallons of White Rabbit ice cream in the first 20 days of February and 50 more gallons within the next three days.
On February 24, Wanderlust sold its remaining 39 gallons of the ice cream in merely eight hours, Food & Wine magazine reported.
Wanderlust Creamery normally sold 40 gallons of best-selling ice cream in one week at peak season in July.
The serving period of the White Rabbit ice cream has been extended through March due to the crazy sales.
However, the biggest challenge for the shop is the shortage of raw materials.
Borlongan and Lopez drove around Los Angeles, even to Cost Plus World Market in Burbank and Glendale to get White Rabbit candies.
Born in 1959, White Rabbit Creamy Candy is a white sticky milk candy coated with a transparent rice layer and wrapped by a thin waxed paper wrapper on which is printed a white rabbit.
It is one of the most popular candies in China and carries numerous memories of Chinese generations.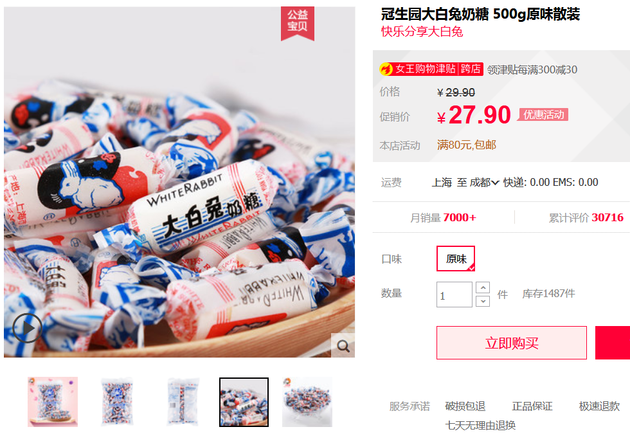 White Rabbit Creamy Candy's sales page on Tmall

The U.S.-based Wanderlust Creamery introduces innovative products based on cuisines of various countries. For example, a special mango cream dipped in Filipino mango flavored couverture and covered in crispy mango pieces and dried flowers came in on Christmas Day of 2018.
This time, the store creates such "creamy white ice cream made with the classic White Rabbit candy from Shanghai", by which it hopes to "awaken sweet childhood memories of Asian-Americans."
A local media from California revealed Borlongan's grandparents met and got married with each other in Singapore and she paid visits to Asia several times. She was therefore obsessed with the taste of the candy.
On Wanderlust Creamery's Instagram, it said the White Rabbit ice cream is a seasonal flavor under FoodBeast X Wanderlust.
But a person in charge of the market department at Guan Sheng Yuan, manufacturer of White Rabbit Creamy Candy, said the ice cream store has yet been authorized by the company to sell the new product. Guan Sheng Yuan is confirming if there is any infringement with the help of a third party trademark agency.
With regard to the issue, a lawyer told NBD that "White Rabbit" has been registered as a trademark and the use of White Rabbit wrapping paper involves an infringement if Wanderlust Creamery has no authorization, and the brand can't be used for publicity.
Email: zhanglingxiao@nbd.com.cn