Tesla's big price cuts on Model S and Model X enrage car owners
Mar. 5 (NBD) -- Tesla's big price cuts have enraged some car owners who saw the value of their Model S or Model X decrease by tens of thousands of dollars overnight.
Last week, along with its announcement of a new base Model 3 Standard Range at 35,000 U.S. dollars, Tesla announced that it would cut prices across the lineup, including on its more expensive Model S and Model X vehicles.
To achieve these prices while remaining financially sustainable, Tesla is shifting sales worldwide to online only, the U.S. automaker said in the statement, adding that shifting all sales online, combined with other ongoing cost efficiencies, will enable the carmaker to lower all vehicle prices by about 6 percent on average.
Tesla CEO Elon Musk stated on Twitter that base Model 3 will be available in Europe in 6 months. He also said that the affordable model will come to Asia in 6-8 months provided that production in Shanghai Gigafactory begins on time.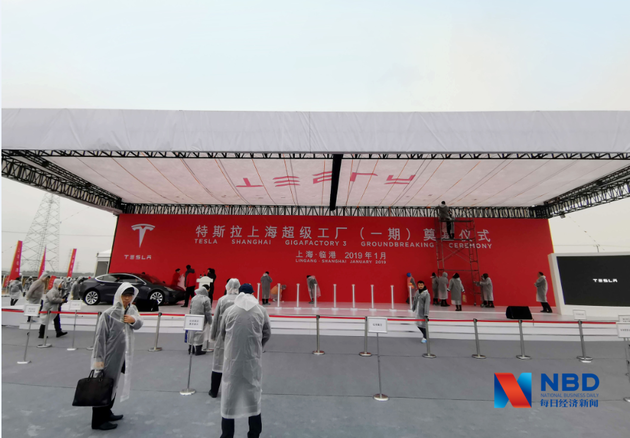 Groundbreaking ceremony of Tesla's Shanghai Gigafactory. Photo/Huang Xinlei (NBD)
However, the news about the affordable Model 3 was drown in the sea of angry comments about the prices cuts on existing models.
In China, the price reductions have been quite significant. The price of Tesla's most expensive model has dropped by 340,000 yuan (50,747.8 U.S. dollars).
As a result, indignation over Tesla's move started trending on Weibo, China's twitter.
According to Global Times, a Weibo user named "Luweijuzi" complained in a post on his account, saying, "I received Tesla's Model X on February 25, and I only drove this car for five days before Tesla announced a price reduction of 174,300 yuan (26,015.7 U.S. dollars). I'm probably the most unlucky new buyer. That's unfair."
The new buyer claimed that his actual loss because of the price cut was about 200,000 yuan (29,851.6 U.S. dollars), including tariffs, bank loan interest, insurance and sales taxes.
Zhang Junyi, managing partner at NIO Capital, said to the 21st Century Business Herald that the price cut of Tesla is aimed to seize the Chinese market in an aggressive way. Since the EV maker is building its Shanghai Gigafactory to manufacture cars in China, price reductions of its EV models are expected and an earlier move allows Tesla to get a head start, according to Zhang.
However, the Chinese market, which is potentially the world's largest EV market, didn't contribute much to Tesla sales.
According to Tesla's financial reports, the company's China revenue for the first three quarters of 2018 declined to 1.45 billion U.S. dollars from 1.53 billion U.S. dollars a year earlier.
Xpeng Motors CEO and Chairman He Xiaopeng noted that the brand effect of Tesla in China hasn't effectively transformed into sales in the country and the attributed the poor efficiency to problems in the U.S. automaker's efforts to localize its EVs.
Zhang shared the same observation, adding that Tesla doesn't understand the Chinese market well and it should develop EV models through aesthetics of Chinese customers and give more thoughts into its branding and positioning as well as products and services.
To quell the anger of customers, Tesla later announced that all car owners who bought a Tesla before the big price decrease would be able to buy the Autopilot or Full Self-Driving capability at half normal cost, up to 6,000 U.S. dollars less.
Email: gaohan@nbd.com.cn