Smart phones, e-payment pushing chewing gum out of fashion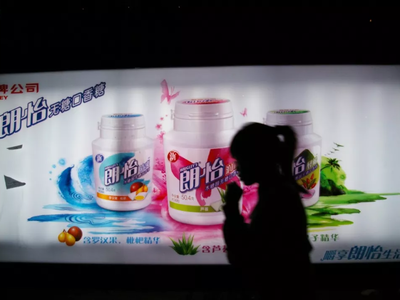 File Photo/VCG
Mar. 6 (NBD) -- Why do people chew gum? To freshen breath? To make face thinner and shape a better jaw line? Or simply to kill time?
Liu Ting used to chew gums in bed, at class, after class and even during sitting an exam. Chewing gum is a major way for Liu to pass time during high school. "I once chewed 3 packs of gum (15 gums) within one day, which was my highest record, and almost lost my taste at the end of the day," Liu recalled.
For Liu, chewing gum, like smoking, has no particular meaning and was just an addiction. But that was 10 years ago.
Many people now find gum disappearing from their pockets and being replaced by mouth wash or peppermint, which is bad news for the gum industry.
In 1892, William L. Wrigley Jr., founder and eponym of the Wm. Wrigley Jr. Company, an American chewing gum company, began packaging chewing gum as incentive with each can of baking powder. The chewing gum eventually became more popular than the baking powder and Wrigley's reoriented the company to produce the gum. Now gum is landed in the same situation as the baking powder.
Gum sales in China has been seeing sliding growth ever since 2010, according to statistics from market survey portal chinabaogao.com. Besides, sales revenue of chewing gum reached its peak of 11.3 billion yuan (1.7 billion U.S. dollars) in 2016, but has started to witness negative growth since then. The sales revenue of gum was projected to slip to 10.1 billion yuan (1.5 billion U.S. dollars) in 2018.
What is the reason behind China's increasing distaste for chewing? Some blamed e-payments such as WeChat Pay.
Gum used to be synonymous with a last-minute check out purchase. The rise of e-payments has hurt gum sales. Ms. Peng in Chongqing has a small grocery store, said that in the past she used to offer customers with gum instead of giving out change. "Now customers usually make payments with their phones, hence no change needed," Peng explained.
People spending less time in the checkout aisle may add to gum' predicament.
Some industry insider analyzed that mobile phone addicts spend time on their devices while waiting for the check-out, which greatly reduces chance of gum purchases. According to market research firm Euromonitor International, global gum sales have declined 15 percent since 2007, the year the iPhone came out.
As a matter of fact, challenges the gum sector face in China also prevail in other countries including Japan and the U.S.
According to a Japanese gum association, the sales revenue of gum in the country shrunk from its peak of 188.1 billion yen (1.7 billion U.S. dollars) in 2004 to 100.5 billion yen (900 million U.S. dollars) in 2009. And, the U.S. saw its gum market slipping since 2008.
People give various answers to decreasing appeal of chewing gum.
"Gum is not good for my teeth and long-time chewing could give me a wider jaw."
"I'm afraid that chewing gums pull on my dental crown, loosening it."
"Gums are for children. Adults use mouthwash."
What is your answer?
Email: gaohan@nbd.com.cn