Chinese Tobacco King Chu Shijian dies at 91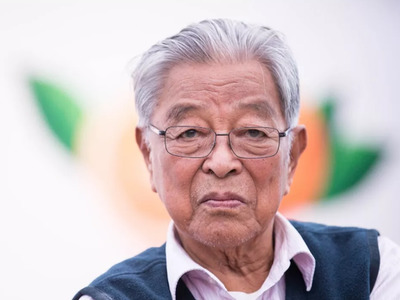 Photo/VCG
March 6 (NBD) -- Chu Shijian, China's "Tobacco King" and founder of Chu Orange, passed away at the age of 91 on Tuesday. A farewell ceremony is expected to be held on this Friday, reported news outlet The Paper.
Upon the sad news, a string of Chinese entrepreneurs including real estate developers Wang Shi, Pan Shiyi and Wan Jianlin, education provider Yu Minhong, biographer Zhou Ye, and founder of sharing space Ucommune Mao Daqing expressed their condolences to Chu on social media platform.
As a great Chinese entrepreneur, Chu is a typical late bloomer and his toughness and wisdom revealed through his magical life experience has inspired generations.
Rise and fall of the Tobacco King
Chu was born in Yuxi County, southwest China's Yunan Province in 1928. He lost his father at an early age and made a living through liquor-making and farming with his mother. He even battled in a war.
At the age of 51, he became director of the near-bankrupt Yuxi Tobacco Co where his legendary begins. Under his leadership, it became China's largest and most profitable cigarette producer during the 1980s and 1990s.
It is worth noting that tax generated by the tobacco company accounts for a whopping 60 percent of the total fiscal income of Yunan Province each year. And the intangible value of the Hongtashan tobacco brand built by him is as high as 33.2 billion yuan (5.0 billion U.S. dollars).
However, in 1999 when he was 71, Chu was arrested on charges of corruption and sentenced to life imprisonment. Many people thought this would be the end of his career but it obviously was not.
Later, Chu was sent out for treatment due to severe diabetes in 2002 and gained parole release in 2004. His prison time was reduced to 12 years in 2008.
Starting over at the age of 74
When he was out for treatment at the age of 74, Chu decided to restart a career by growing orange trees in his hometown.
At the beginning, the oranges tasted not very good and the output was limited. It took Chu six years to tame these trees.
Chu has a harsh demand for fertilization, irrigation and pruning. Despite at an old age of 80, Chu was often seen in the fields for eight to ten days each month.
In 2010, Chu Orange, which named after him hit the market. Although it is several times the price of common oranges, it is well-received by the market.
After years of efforts, the output of his oranges grows accordingly. From 2006 to 2013, the annual growth of oranges reached 1,370 tons. In 2014, sales of Chu Orange exceeded 100 million yuan (14.9 million U.S. dollars), with net profits standing at over 70 million yuan (10.4 million U.S. dollars).
Riding on the wave of e-commerce, Chu expanded the distribution network online, which greatly pushed the sales.
The success of his orange business miraculously made him a billionaire again at the age of 84.
"I don't measure a man's success by how high he climbs but how high he bounces when he hits bottom," Wang Shi commented on Chu citing General George S. Patton.
Email: tanyuhan@nbd.com.cn